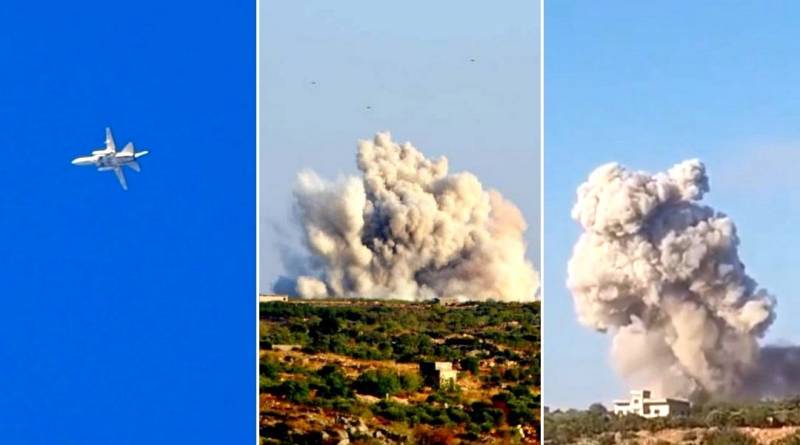 Footage of the application of a series of air strikes by the Russian Aerospace Forces on the positions of pro-Turkish militants from the Katiba Tawhid wal-Jihad group (banned in Russia) in the Syrian province of Idlib has appeared on the Web.
The four videos presented show how Su-24 tactical front-line bombers attack jihadists in the southern part of the village of Sarja with high-precision ammunition. This group refuses to leave the occupied territories and move beyond the M4 Latakia-Aleppo (Aleppo) motorway.
It should be noted that the aforementioned structure, the name of which is translated as "Battalion of Monotheism and Jihad", consists mainly of natives of Central Asia. It was this organization that carried out a series of bloody terrorist attacks in Russia, Sweden and other countries.
On April 3, 2017, a suicide bomber detonated an IED in St. Petersburg on the stretch between the Sennaya Ploschad metro stations and
Technological
institute ". Then 15 people died and about 100 were injured of varying severity.
On April 7, 2017, a terrorist truck crashed into a crowd of people in downtown Stockholm. As a result, five people were killed and 14 people were injured. The killer was arrested and sentenced to life in prison.
Note that recently, the Russian Aerospace Forces have resumed delivering targeted strikes against jihadists in Idlib. For example, at the end of October 2020 there was
inflicted
an air strike on pro-Turkish militants from the Feylak al-Sham group. At that moment, they were holding a parade at Kafr Taharim.