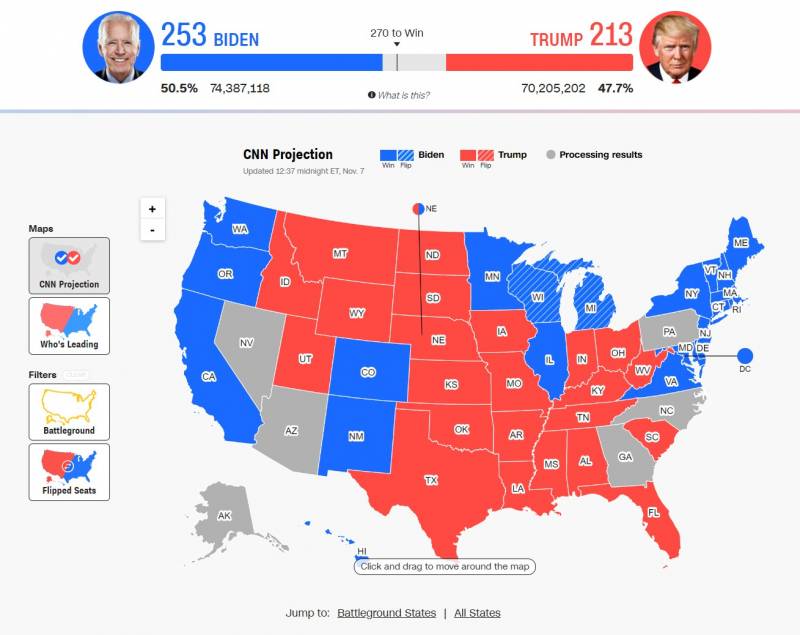 As of the morning of November 7, 2020, the results of the expression of the will of the Americans in the election of the head of state in the United States have not yet been summed up. Some states cannot count the ballot papers in any way. Leading American media, which simply cannot be suspected of sympathizing with Republican Donald Trump, took away some of the electoral votes from Democrat Joe Biden. His victory was now less obvious to them.
News platforms CNN, The New York Times, NBC and ABC have reduced the number of electors for presidential candidate Biden from 264 to 253 in their interactive tables, which reflect the results of the vote. Moreover, the pro-Trump television channel Fox News did not change anything. Under US law, a presidential candidate needs 270 electoral votes to win.
The explanation of the behavior of the "democratic" media is quite simple. They rushed to count in favor of Biden, Arizona, which has 11 electors. However, in this region, 90% of ballots have been processed so far and the gap between candidates is minimal. Now Biden has 49,9% of the vote there, and Trump has 48,6%.
It should be noted that earlier Arizona was considered a Republican state. Its residents were delighted with the start of construction of the "Trump Wall" on the border with Mexico. But in recent years, many people have moved to Arizona from neighboring California, where their work has become worse. Most of them are used to voting for Democrats for years.
Exactly the same situation arose in the state of Nevada (6 electors). Now 87% of the ballots are counted there, Biden has 49,8%, and Trump has 48% of the vote.
Votes not counted until the end of Georgia (16 electors), North Carolina (15 electors), Pennsylvania (20 electors) and Iowa (6 electors). The process was stopped there when 99% of the ballots were processed. Moreover, in Iowa, it is unlikely that something will change, there are 53,2% for Trump, for Biden - 45%.