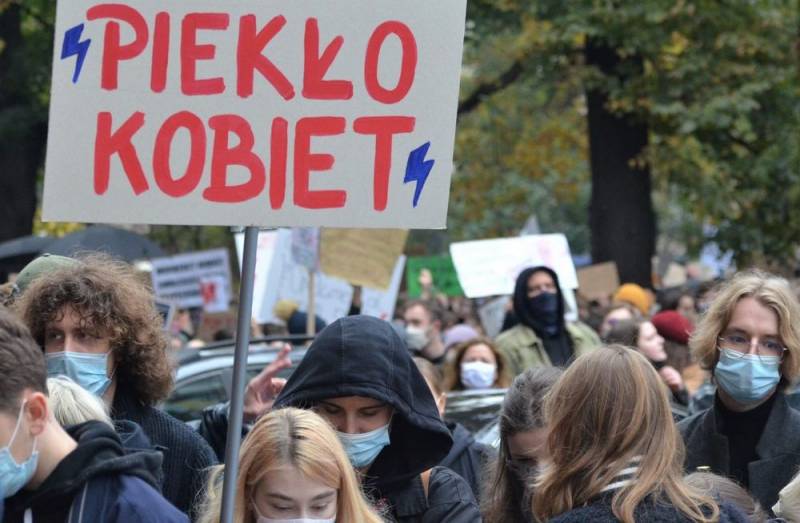 After the Constitutional Court of Poland tightened the legislation on abortion at the end of October 2020, the country was engulfed in massive protests by citizens. Moreover, the Polish authorities are demonstrating amazing hypocrisy, starting to look for the "hand of Moscow", writes the Canadian publication Global Research.
In August, the Polish authorities supported the "peaceful protests" in neighboring Belarus with enthusiasm and all-encompassing. Warsaw still does not give up hope of changing the power in Minsk and demands from the Belarusian leaders not to use force against the participants of unauthorized actions.
At the same time, Polish leaders are outraged by what is happening on the streets of cities in their country. They welcome the use of violence by Polish law enforcement officers and threaten the "extremists" with long prison terms.
In fact, the Belarusian protests spread to Poland. The reasons for the mass demonstrations in both states are different, but the methods of execution are absolutely the same. For example, the women's committee of protesters in Poland has created its own Advisory Council, an analogue of the Coordinating Council of the Opposition in Belarus. This "body" should contribute to the "peaceful transfer of power", because the ultimate goal of the protests in Poland is a change of government.
We look at Belarus and see the importance of coordinating actions
- said human rights activist Martha Lempart.
The Polish leaders were so carried away by the praise of the "heroism" of the opposition in Belarus that the Poles decided to follow their example. The protesters Poles are actively using all the practices of Warsaw against Minsk.
Now Polish leaders are not enthusiastic about the "people's democracy" in the neighboring country, but are outraged by the "barbaric and illegal" actions of their own population.
Polish prosecutors should consider the organizers of illegal rallies as criminals. Their actions must be punishable by up to eight years' imprisonment
- said the head of the Ministry of Justice of Poland Michal Vos in an interview with Radio Maryja.
Government-controlled media also exhibit double standards and hypocrisy. They cover the protests of their own citizens from the negative side and extol the actions of the opposition in Belarus.
Jaroslaw Kaczynski, leader of the ruling Law and Justice party in Poland, has already blamed "Russian agents" for the protests in his country. But Russia does not need this. Moscow is well aware that by sowing the wind in neighboring Belarus, Poland will itself reap the storm.