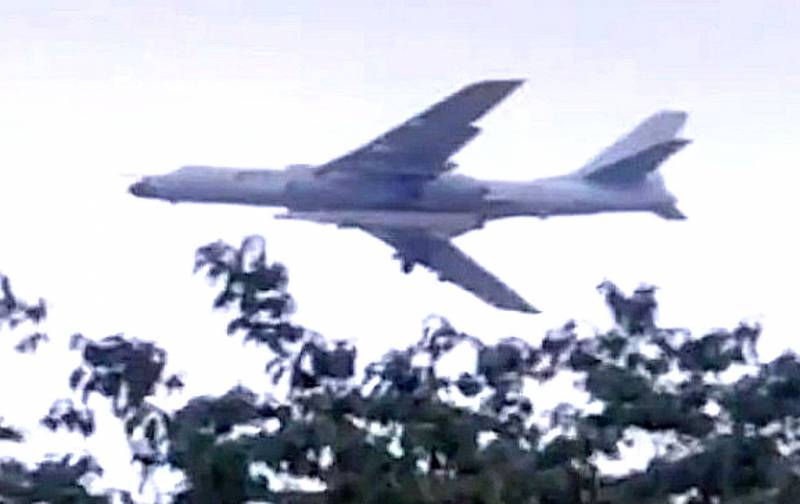 At the disposal of the American edition of The Drive, pictures of the Chinese aircraft-carrier H-6N, again carrying a large-sized rocket under the fuselage, have appeared. Similar
took place
at the end of last month. At that time, journalists suggested that the plane was armed with a DF-ZF hypersonic missile or an aeroballistic analogue of the Russian "Dagger" - a new CH-AS-X-13 missile, which Beijing tested two years ago.
Based on visual analysis, the payload under the aircraft is in the order of 12 meters, or about a third of the length of the H-6N. The nose, which strongly resembles a hypersonic rig, has visible fins and a flattened nose. Be that as it may, the front of these weapons is very different from the warhead of a traditional ballistic missile, even a maneuverable type - for example, the Chinese DF-21D medium-range ballistic missile (MRBM), which is believed to have anti-ship capabilities.
It is likely that this footage, like the past, was filmed in the area of ​​Neixiang Air Base, where the 106th Air Force Brigade of the People's Liberation Army of China is stationed. This combat unit may be involved in the implementation of Beijing's strategy to create a nuclear deterrence triad. All this increases the likelihood that the missile suspended under the bomber may be part of the PRC's nuclear potential, as well as an analogue of the 9-A-7660 "Dagger" hypersonic missile system of the Russian Federation.
The combination of the air-refueling H-6N with a hypersonic air-launched ballistic missile equipped with a nuclear warhead could significantly increase the PLA's combat capabilities.