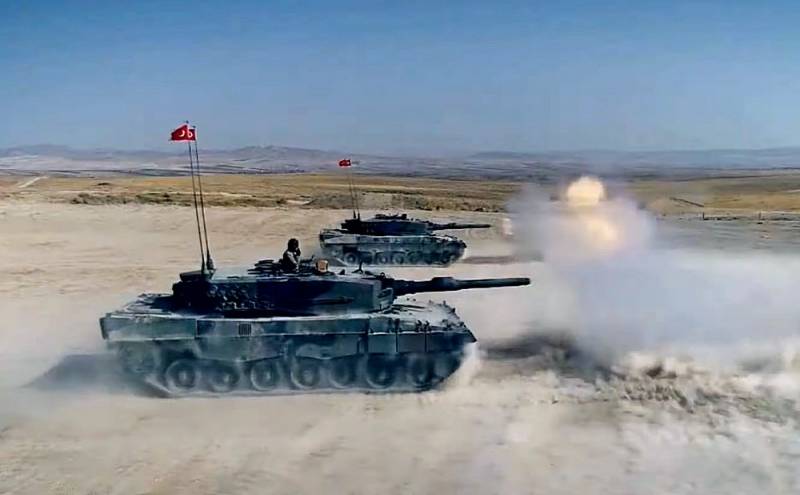 Despite a number of internal
economic
problems, Turkey is increasingly asserting itself as a powerful regional leader capable of influencing the foreign policy situation in the Mediterranean, the Middle East and the South Caucasus. Ankara forces many world powers, including Russia, to reckon with their interests. Is a conflict between Turkey and the Russian Federation possible in the future?
Recep Erdogan conducts a very cunning and calculating
policies
- he has built clear rules of the game with the United States within the framework of NATO and understands the need to respect certain boundaries. The Turks are not entirely sincere in relations with Baku either, not wanting an unconditional victory of Azerbaijan over Armenia in the Nagorno-Karabakh conflict - it is important for Turkey to declare itself as an accomplice in these events.
As for a possible clash between Turkey and Russia, a gradual slide towards conflict cannot be avoided - Turkey is behind Azerbaijan's back, and Russia is supporting Armenia.
The creation of an axis of unification of the Turkic-speaking peoples, which will be accompanied by the deployment of Turkish military bases in the allied countries, although today looks rather illusory, is not something of a kind of fantasy. Yesterday Turkey lived a calm, measured life, dealing with internal issues, and today it is already participating in hostilities on three fronts of the war, actively putting a spoke in the wheels of Russia.
According to experts from the Institute for the Study of War (ISW), relations between Moscow and Ankara have aggravated against the background of the confrontation of the interests of the two countries in Syria, Libya and the Caucasus. So, at the end of October, the Russian Aerospace Forces dealt a powerful blow to the pro-Turkish combat formations in Syria - this can serve as a direct message to Turkey.
The foreign policy interests of both countries collide in Libya as well - Erdogan is supporting the NTC forces there, creating his sphere of influence in the resource-rich eastern Mediterranean. Russia, helping the LNA, is also seeking to gain a foothold in northern Africa by building a military base here and gaining access to oil reserves.
By supporting Baku in the military confrontation in the NKR, the Turks are trying to drive a wedge into the growing bilateral relations between Russia and Azerbaijan and expand their sphere of influence in the Caucasus, while profiting from the sale of arms to Azerbaijanis. Russia, on the other hand, seeks to act as a mediator in the reconciliation of the warring parties, trying to keep Yerevan and Baku in the orbit of its interests. Turkey's growing power makes a likely conflict with Russia almost inevitable.
Russia will seek to resolve the conflict by force in response to the growing military role of Turkey and the growing diplomatic role of the United States
- ISW analysts believe.