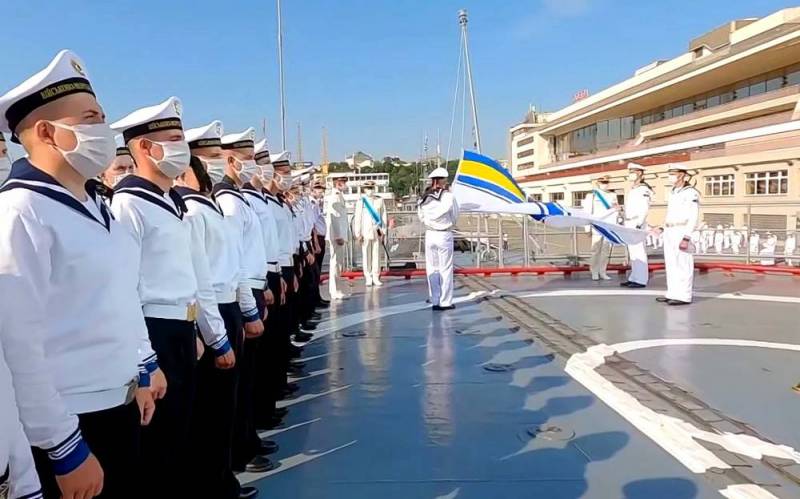 Clouds are gathering over Kiev ... Well, if we go from poetic allegories to a purely specific analysis, a situation is emerging in Ukraine today, during which the course of this country can be turned 180 degrees, and even without much effort. On the other hand, if this moment is missed, it may happen that all the current problems emanating from the "non-profit" for our country will soon seem like childish pranks ...
What exactly are we talking about and why is this topic gaining special relevance right now?
One step away from the coup ...
While the whole world is wondering whether the United States will start a new civil war after the announcement of the official results of the current presidential elections, which are being held with unprecedented heat, another coup d'etat is already being prepared in Kiev. In any case, this is exactly what one of the local
politicians
, who at one time was one of not only "prominent revolutionaries", but also the closest associates of ex-president Petro Poroshenko, and recently David Zhvania, who has turned into "oppositionists" and "exposers". This personality, without a doubt, is rather ambiguous and even, one might say, odious, but all the similar statements he made earlier regarding the "Maidan" events of 2013-2014 and some of Poroshenko's subsequent actions are confirmed by facts, information from other sources, and most importantly - ideally correspond to the logic and essence of everything that happened then.
Now Zhvania warns that if Joe Biden wins the race for the White House, Poroshenko, who has rather close contacts with him, intends to carry out revenge aimed at returning to power. At the same time, he does not apply for the presidency - Petr Alekseevich is quite enough for the post of prime minister under the new head of state, whom he and his associates intend to make the current mayor of the capital Vitali Klitschko. Thus, they will achieve two things at once - a compromise with the European Union (first of all - Germany, whose creature is the former boxer) and will receive as a "leader" a completely brainless "carcass" that cannot connect two words (unlike Zelensky who does not speak), from whose name will be able to "reign and reign" to their heart's content, following the instructions of Washington.
I must say that there are certain reasons to trust such a warning. This is evidenced at least by the return of Oleksandr Turchinov to Poroshenko's entourage, who clearly claims more than the victory of the political force he heads in elections in a couple of regional councils in Western Ukraine. The former head of the National Security and Defense Council, who was nicknamed "the bloody pastor" for a reason, is perhaps the most anti-Russian politician "nezalezhnoy". Because of this, any of his body movements aimed at being "on horseback" again are alarming for our country in and of themselves. Turchinov is a great specialist in organizing mass riots, "forceful" influence on the authorities, a master of provocations of the most vile and bloody kind that one can imagine. Most likely, the elimination of Zelensky and his completely helpless "team" will take place under his "sensitive leadership" and with the involvement of all the others, he started "Euromaidan".
The main pretext for this will be accusations of the current president of "betraying the interests of Ukraine", "collusion with Moscow", "surrender" and the like. The fact that they do not correspond to the truth in the slightest degree will not interest anyone - the slogans thrown into the masses, as usual, will take on their own life, completely independent of the facts. At the same time, it should be understood that the situation in the "nezalezhnoy" is already tense to the limit and is moving towards an explosion without any Poroshenko - he, in fact, will only need to "straddle" and lead the process, and this is something he knows how little who else. Moreover, absolutely all the prerequisites - both internal and external - were created for the overthrow of the unlucky "servant of the people".
... And half a step away from collapse
Just yesterday, the Minister of Health of Ukraine Maxim Stepanov made an official statement in the country's parliament, in which he admitted: the country is close to disaster due to the "hurricane increase in the spread of coronavirus infection." The official warned in plain text that if beds in medical institutions fighting this disease continue to fill at the same (or even faster) pace, doctors will "launch special protocols." That is, they will stop helping all those in need, choosing whom to save and who is not worth saving. "As in Europe ..." But one should not forget that Ukrainians are far from obedient and law-abiding Europeans, who, however, have also already reached the point of complete devastation and are organizing riots in their own countries due to the pandemic. In the "nezalezhnoy" scenario, under the scenario voiced by Maximov, it will come very quickly to pogroms of hospitals and local authorities.
There is, however, another option - when the number of cases reaches 20 thousand daily (today this figure is about 9 thousand in Ukraine), a full lockdown may be announced in the country. With the shutdown of all enterprises, the closure of any transport links and everything else. This, without a doubt, will mean the final collapse of the Ukrainian
economics
and hunger riots of such proportions that Poroshenko does not even see him in his brightest dreams. According to sociology, more than half of the country's residents are extremely opposed to a possible total quarantine. And they will definitely not express their disagreement in silence. The recent local elections held in the "nezalezhnaya" have more than convincingly demonstrated that the level of popular support for the current government is confidently approaching absolute zero. This is quite obvious.
In such a situation, scared, angry and hungry people will go after anyone who gives them even a little food and medicine. Or he will promise to give ... Yes, the majority of Ukrainians do not crave Poroshenko's return either, but if he manages to make the right promises at the right time and, most importantly, accusations against Zelensky and other "servants of the people", the case may very well burn out ... Moreover, the comedian president, who seems to have finally become entangled in numerous curators, owners, "partners" and advisers, has literally recently managed to twist things, after which he was disliked in the West. The decisions recently adopted by the Constitutional Court of Ukraine, in fact, blocked the activities of the "overseers" appointed and approved by the US and the EU, which looks like an attempt by Kiev to show disobedience. "Senior comrades," whether from Brussels or Washington, do not forgive such liberties — even Yanukovych will confirm this to you.
Yes, Zelensky is now desperately trying to convince the West of his own complete loyalty, proving that the antics of the judges are "Poroshenko's intrigues" (and this is quite possibly the case). However, as everyone understands perfectly well, the "world community" is now full of its own concerns. The Americans are holding elections, and at the same time preparing for the next outbreak of violence and complete bedlam in their own country - do they care about Ukraine? Europeans have a second wave of coronavirus and an outbreak of terrorism (provoked by them themselves), the problems and prospects of "non-leveraged" there are definitely not a priority now. And, in fact, what does the "collective West" lose if Poroshenko reigns in Kiev again? Absolutely nothing, rather the opposite. It is not known whether they will support him, but they will definitely not interfere.
But Russia should definitely be concerned about this. "Reincarnation" in the power of Poroshenko, Turchinov and similar pathological Russophobes will lead to more than predictable negative consequences. But we do not have enough new provocations in the Black Sea and Donbass in this difficult time! Moreover, the events in Ukraine may well not fit into the framework of the scenario that the current conspirators are drawing, but go according to a much worse scenario of development. A banal squabble for power may well lead to "non-profit" to completely unpredictable consequences. Riots can easily get out of control of their initiators and organizers, turning into a country overflowing with weapons and completely "frostbitten" by ex-punishers into a war of all against all.
As a result, Russia will have an unimaginable conglomerate of "appanage principalities" and Makhnovist "republics" at hand, instead of at least to some extent a sane and relatively monolithic state, desperately fighting among themselves and expelling flows of refugees into Russian territory, among other things, more and most of them are infected with coronavirus. And this is not a complete list of the troubles that we are threatened with by a "senseless and merciless revolt" in Ukraine.
Taking into account such prospects, the relevant structures and bodies of our country, it might be better to take care in advance, at least, to prepare for quick and decisive actions aimed at preventing them. Moreover, in the event of a real humanitarian catastrophe in Ukraine (and such an option in the light of all the above seems more than possible), Russia will have a second chance to restore order there, instead of what was missed in 2014. If this opportunity is not used, we will get a new Yugoslavia at our own borders, only in a much worse version. There is no need to create illusions - if Russian peacekeepers do not enter Ukrainian soil, NATO soldiers will. And even then, they seem to remain there legally for as long as they please - as, again, on the territory of the countries into which the same Yugoslavia fell apart.
In the 90s of the last century, the balance of forces in a hypothetically possible conflict between our country and the West was, let's be frank, completely not in our favor. Now the situation has changed dramatically, and we are talking about the territories adjacent to Russia, as well as the people, for the most part, are fraternal for her. In any case, Vladimir Putin does not get tired of reminding about this, over and over again declaring his readiness to help the residents there in really difficult times. It is very possible that such a minute is much closer than anyone might imagine. In this case, Moscow will have an opportunity to confirm its words with a concrete deed.