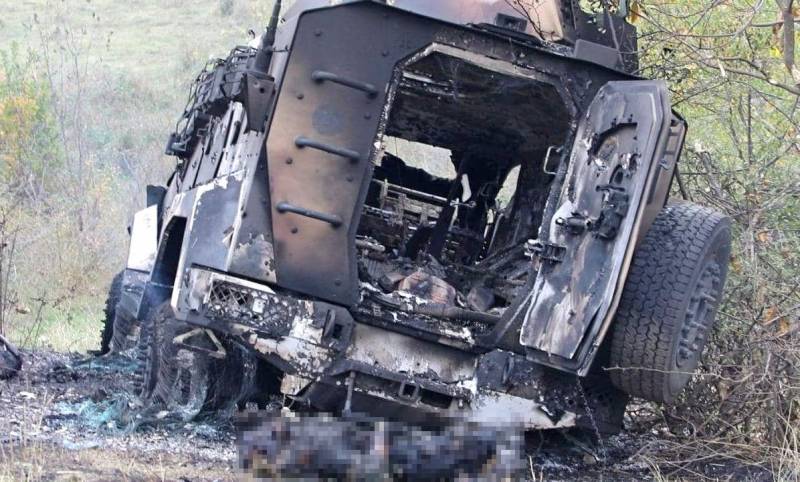 On November 3, 2020, footage of the defeat by the Armenian troops in Nagorno-Karabakh of the assault column of the Azerbaijani special forces "Yashma" appeared on the Web. This happened near the village of Tagavard, which is located several kilometers west of the Red Bazaar, which is a crossroads. South - Hadrut, to the east - Martuni, in the north - Stepanakert.
Over the past few days, more Azerbaijani soldiers have died in this place than in all the time since the beginning of the last escalation of the conflict.
- noted the Russian journalist Semyon Pegov.
The commander of the Armenian unit, in turn, said that the column consisted of three armored vehicles. The Azerbaijanis decided to storm the positions of the Armenians, but were met with shots from grenade launchers, mortars and other types of weapons. The attack was repulsed, and the Azerbaijani detachment was destroyed, and now the Armenians are combing the area in search of those who may have managed to hide.
The footage really shows three armored vehicles. One of them is almost completely burnt out, and the second is across the road on one side, and the third fell into the gorge.
Syrian Islamists are fighting here
- added the Armenian commander, demonstrating a Turkish radio station.
We will defend our land and no one can take it from us
- said the Armenian leader.
In turn, the Nagorno-Karabakh Defense Army confirmed that in the ranks of the destroyed column of the Azerbaijani Armed Forces there were mercenaries from Syria, who were transferred to the region by Turkey.
In recent days, the Defense Army and volunteers staged a real hell for the enemy in our forests and gorges
- sums up the message of the military department of Nagorno-Karabakh.