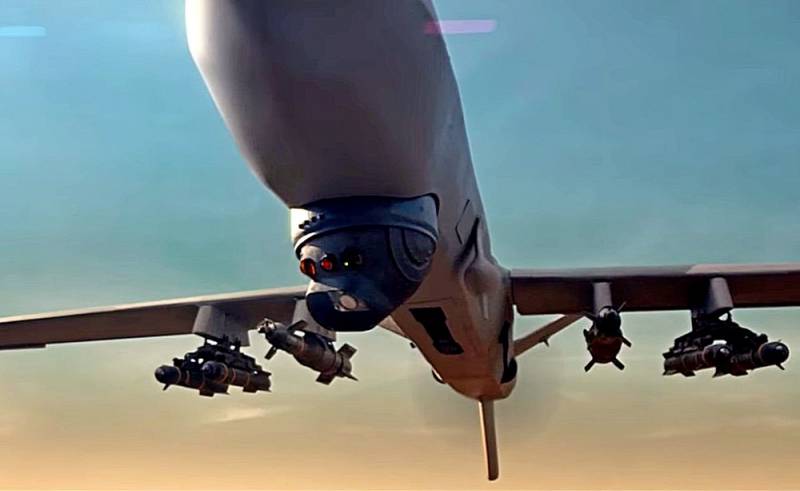 Evaluating the nearest geospace, it is sadly necessary to state that over the past 5 years Russia has lost the main thing - it has lost its strategic initiative. Its last activity was in 2014 - Krymnash, and in 2015 - a military campaign in Syria. Since then and up to the present moment, she has been working as the second number everywhere, working out the disturbances that arise around its perimeter and inside it, raking out behind its geostrategic opponents, forcibly swallowing dust from under their hooves. Some of these opponents still dress up in sheep's skins, posing as friends (Turkey, for example), but their wolf fangs can no longer be hidden behind fake smiles.
At the same time, along the perimeter and within the Russian Federation, conflicts and problems arise randomly here and there, in which it is forced to participate, scattering its forces and means. I will only list the last of them, but you know them without me. Syria (Idlib), Libya, Khabarovsk, Navalny, SP-2, Belarus, Karabakh, Kyrgyzstan. And the constantly operating hotbed of irritation is Ukraine. Someone calls this "the syndrome of the besieged fortress", it reminds me more of a bear being attacked by a pack of dogs. Putin has a beautiful phrase about the bear - "the owner of the taiga, whom you should not try to put on a chain, because he is not going to move to other climatic zones anyway, but he will not give his taiga to anyone either." So, it seems to me that our enemies have found justice for this bear. Which one, we'll talk about this today.
Game theory in practice
Consider the recently flared up armed conflict in Nagorno-Karabakh, where on September 27, in a bloody confrontation, gallant guys from Yerevan and Baku came together for life and death, three months ago, on June 24, marching shoulder to shoulder across Red Square at the Victory Parade in Moscow. And although the Armed Forces of Armenia (under the guise of the Defense Army of Artsakh) and the Armed Forces of Azerbaijan are involved in the conflict, in this situation they are just pawns (with all due respect to them). In game theory, they are not considered, but those who move them (or do not, in game theory this is possible). Ankara's ears are clearly visible behind Baku's back, and behind Yerevan's back, by default, the Kremlin's hands should be (but it has not yet used them).
So, according to this theory, Turkey's position in the armed conflict, which did not accidentally arise in the disputed territory between Yerevan and Baku in Nagorno-Karabakh, is initially better than the positions of the Russian Federation. Because she is waging a war to improve the position she already has. In this situation, Ankara can either win, i.e. in other words, to increase its influence in the region, or there will be a draw, i.e. maintain the current status quo. Moscow has a losing position here. Because in this situation it fights (in game theory you can fight even without participating in a war) only for a draw, i.e. for maintaining the existing status quo, which suits her perfectly. A situation when she has equally good relations with both Yerevan, with which she is bound by the CSTO Collective Security Treaty, and with Baku, with which she has historically good relations. Otherwise, Russia can only lose, i.e. lose its influence in the region, ceding it to Turkey. The loss will be recorded even if the Russian Federation does not interfere in the conflict. For failure to provide assistance to your ally under the Collective Security Treaty leads to the automatic loss of this ally, which does not in any way enhance the influence of the Russian Federation in the region and generally greatly lowers its international authority.
The Sultan knew where he was hitting. And the moment was not chosen by chance (elections in the USA, the hegemon has no time for vassals, especially since vassals no longer consider themselves to be such). The Kremlin is stretched out. And it is impossible to help Yerevan (there is not even a reason, since the war is taking place on the territory of Azerbaijan, which has the legal right to restore its territorial integrity violated by Armenia in 1992-1994, even by armed means), and it is impossible not to help, so as not to lose its influence in region and international authority. How to be?
And I said 5 years ago that the Sultan is a very serious and dangerous enemy, which should not be underestimated. He is the only one in the freak show surrounding Putin
politicians
equal to him in ambition and caliber. He is only 2 years younger than Putin, in big politics it is also enough, almost 20 years (1994-1998 - the mayor of Istanbul, 2003-2014 - the prime minister, from 2014 to the present - the current president). He is no stranger to putting Putin on a stretch. In 2015, he already put the GDP with our downed bomber in a similar position. Then Putin found a way out of the impasse. The situation is no better now. Because Turkey is fighting in it either for a win or for a draw, while the Russian Federation defends only a draw (maintaining the status quo), or it may lose (lose influence on the region). If we digitize this process, then "0 / +" is at stake for Turkey, where "0" is a draw, and the Russian Federation is fighting for "0 / -". According to the theory of games, the situation for the RF is a losing one, because only a draw can be a win for it. Those. the sultan, having unleashed this conflict with his hands in Baku, is playing to win, while the Kremlin is only fighting for a draw. Translated from game theory into practice, the Sultan risks nothing, and Moscow risks losing face at best.
Mosquito war
With the theory of games finished, let's move on to the theory of wars. The war in Nagorno-Karabakh showed the world a new tactic of modern combat, clearly demonstrating the advantages of using shock drones to defeat
equipment
and enemy clusters, breaking the monopoly of previously used assault aircraft, artillery and MLRS.
The generals sitting in the General Staff began to scratch their turnips, since this practice forces them to correct the already written plans for maintaining the database in modern conditions. But it is better to learn from others' mistakes than from your own, because you have to pay for your own with your own blood. Finally, life forced them to prepare for future wars, breaking the established practice that generals are always ready only for the last war. Although, if you dig into history, you can find something different there, because our ancestors were also not fools.
The first experience of using mosquito tactics of warfare dates back to the era of Peter, 1702, the Great Northern War with Sweden. True, then Peter I used it against the fleet of Charles XII due to the lack of the most comparable class of ships, attacking enemy ships with a large number of small boats and small boats. Now this tactic will be used against us. How to fight not by numbers, but by skill, Aliyev showed with the help of Turkish and Israeli UAVs. By the way, the use of kamikaze drones is also not new. In the same Northern War, Peter I used small fire-ship boats loaded with flammable materials (in particular, dry forest) against Swedish large sailing ships, which were set on fire and sent to ram an enemy ship with the aim of setting it on fire and destroying it (albeit with great success in this Peter did not reach). But this tactic was already adopted by his descendants, having implemented it on a new technological basis.
To fight against mosquitoes with our available air defense, aerospace forces and so on. heavy weapons is extremely difficult due to the disparity of costs. Neither fighter-interceptors equipped with air-to-air missiles, nor S-300 and S-400 with their surface-to-air missiles, let alone hypersound against them, you can't use a hat, it's very expensive, yes and ineffective (NKR experience has shown). We can only hope for "Krasuha", "Rat" and so on. similar means of electronic warfare and electronic warfare, in the hope that they will blind the enemy, deprive him of remote control, after which the drones will become our easy prey (the blind drone itself will fall to the ground when the fuel supply runs out).
However, this does not solve the problem. Mosquito tactics of warfare presupposes not only a small size, but also a large number of the enemy. For our snotty opponents, Russia seems to be such a fabulous giant, or rather, a powerful, but clumsy bear, equipped with a whole arsenal of modern weapons, from the Armata, the Coalition, Derivation, and so on. Tigers and Terminators on land, to aircraft-carrying missile surface and submarine cruisers with cruise and ballistic missiles at sea; from fighter-interceptors of 4-5 generations and strategic bombers in the air, to an orbital grouping of spy satellites in space (and this is me about hypersound and Poseidon did not say anything!). But you won't use all this fabulous splendor when a man with a spear rushing against you ?! Namely, this is what our enemies are counting on, scorching low-intensity foci along the perimeter of the Russian Federation. So Russia will be like a bear who does not know which dog to fight off first. Do not let them in Kiev, Warsaw, Riga, Tallinn, Vilnius, Tbilisi, Yerevan, Baku, Chisinau, etc. istanbul "Sarmatians" or "Caliber"? Zircons and Vanguards with Petrels are in store for us against other enemies. But they do not attack, unleashing their watchdogs on us, equipping them in the last or the penultimate path, supplying them with modern and not very modern weapons for waging local wars of low intensity, with the sole purpose and task of weakening Russia. Everyone knows how such a war ended for Georgia, but, apparently, history does not teach anyone anything.
While in the West, the voices of those who support the concept of targeted use of tactical nuclear weapons in a limited theater of operations are heard louder and louder, and the US military doctrine considers such a possibility even in response to cyber attacks and attempts to invade the information space, the threat of a local nuclear war low intensity increases many times. The apologists of this idea are quite counting on themselves, having stuffed Europe with medium-range nuclear weapons, calmly sit out overseas, and then, with a knife and a spoon, come to the division of the remaining nobody's pie. And although Putin has not so long ago made it clear that no one will be able to sit out, "retaliation will still overtake, a blow will be delivered to the decision-making centers anyway, we, as victims of aggression, will go to heaven, and they will simply die, because that they won't even have time to repent ", but they naively believe that Putin is either bluffing or will die himself before they are going to fight with us. What can I tell them here? You won't wait! Putin will catch a cold at your funeral!
But, seriously, the saying "If you want peace, prepare for war!" not invented by us, not for us to cancel. And "if a fight is inevitable, then you must hit first!" I will not remind the author of these lines once again, but it's time to answer for the words, without waiting for the bear to be clung to by dogs from all sides. More precisely, not even dogs, but jackals who are just waiting for the command: "Fas!"
During the Napoleonic Wars, there was such a Prussian military leader Karl von Clausewitz (1780-1831), who took part on the side of the Russians in the war of 1812 and even took part in the Battle of Borodino. Due to his ignorance of the Russian language, he could not command the detachments, so he accepted the battle as an ordinary soldier (he personally participated in the raid of General Uvarov's corps to the French flank), with a saber in his hands, demonstrating an example of personal valor to those who followed him. However, on the battlefield, he was not noted for anything special, except for courage, but with his treatise "On the War", published by his wife after his death in 1832, he made a fundamental revolution in the theory and foundations of military sciences, with which he went down in history. According to his contemporaries, this book, on which he worked from 1816 until his death, had a greater impact on the military leaders of the late 19th and early 20th centuries than any other book. Yes, that there is the beginning of the 20th century, they still continue to quote him in the 21st century. I will not deny myself this pleasure either. I will give a few quotes.
War is an integral part of competition, the same kind of struggle between human interests and actions.

War is an act of violence to force our adversary to do our will.

The goal of any war is peace on terms favorable to the victorious side.

The war is fought until victory, period.
Today we were talking about new tactics of modern combat. Here's what Clausewitz said about the fight:
Combat is the only effective way of waging war; its goal is the destruction of enemy forces as a means of ending the conflict.
And in conclusion, his edification to all descendants:
Tomorrow lies in today, the future is created in the present; while you hope madly for the future, it is already coming out disfigured from your lazy hands. Time is yours! What it will become depends only on you.

A statesman who sees that war is inevitable and cannot dare to strike first is guilty of a crime against his country.
The last phrase of the recognized authority of the theory of warfare should be heeded by all contemplators, lazily observing how the ring of its enemies around Russia is narrowing.