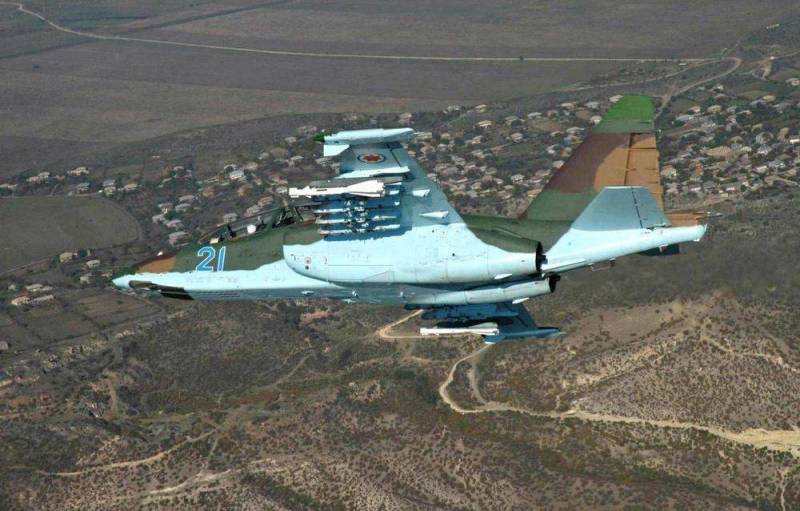 According to Armenian sources, the servicemen shot down an Azerbaijani Su-25 attack aircraft, while the pilot ejected. The corresponding video on social networks shows a dark cloud of smoke over the downed combat aircraft of the Azerbaijani Air Force.
According to data for 2017, Baku has 16 Su-25 and 3 Su-25UB, Yerevan - 13 Su-25 and 2 Su-25UBK.
On Saturday 31 October, the Azerbaijani Su-25 carried out a successful attack on the positions of Armenian troops in Nagorno-Karabakh. As a result of the air strikes, a large number of manpower was destroyed in underground shelters and trenches - this is stated in a statement by the Azerbaijani Defense Ministry.
On Sunday, November 1, the Azerbaijani Ministry of Defense also released information about a previously inflicted combined strike by artillery and aircraft on the enemy's military motorcade. According to the department, the military column was destroyed and the enemy suffered casualties. The Armenian side refrained from commenting on these data.
Meanwhile, according to the statement of the press secretary of the NKR President Vahram Poghosyan (published by the agency "
News
-Armenia "), a group of Armenian volunteers from the Shahen Meghryan detachment destroyed a detachment of two dozen Turkish special forces in close combat, only two managed to escape. The clash took place near the village of Avetaranots, Askeran region.