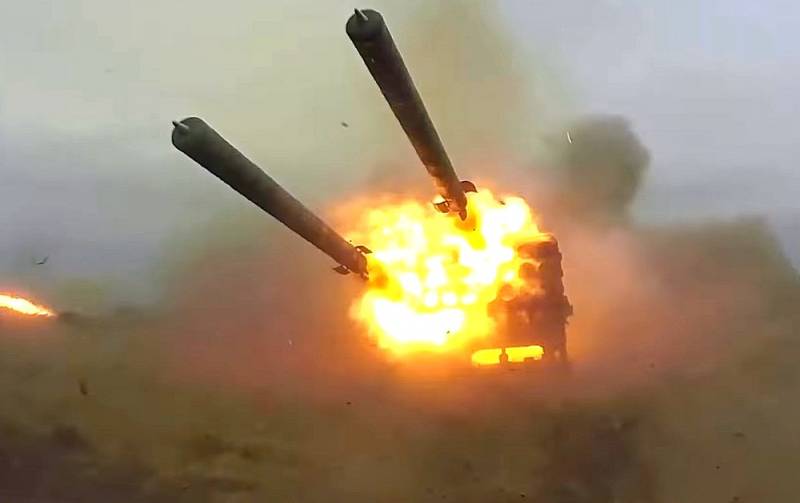 The Russian heavy flamethrower system TOS-2 "Tosochka", which was first used in a recent exercise, so "excited" the Americans that the publication of The National Interest openly "hinted" at the advisability of banning such systems at the international level.
As a matter of fact, this is not surprising. Indeed, since the late 70s, the Pentagon has been unsuccessfully looking for a weapon whose power will be comparable to a nuclear charge, but without the consequences in the form of radiation. But the Russians did it.
For the first time a heavy flamethrower system called "Buratino" was tested by the Soviet Union in 1978. Then the combat effectiveness of the TOS was considered low. But everything changed after she was equipped with an unguided missile with a thermobaric warhead.
A flame with a temperature of about 800 degrees burned out everything in its path, penetrating literally all the cracks. In this case, after the mixture was burned out, a vacuum was created, which in turn formed a centripetal shock wave that would blow away any obstacles.
Tests conducted in Afghanistan, where these weapons were extremely necessary for the assault on long-term fortifications, confirmed the high effectiveness of the TPS. However, in 1989 the USSR withdrew from Afghanistan, and in 1991 the Soviet Union itself was gone.
The TOS "Buratino" was adopted by the Russian army only in 1995. But the real triumph of the modified system, which was named TOS-1A "Solntsepёk", took place in Iraq in 2014.
Then a similar result was achieved in Syria, where thanks to our "Solntsepek" it was possible to recapture the Al-Safa plateau from the Islamists, to which the Assad army could not "approach" for more than 3 months.
Now "Tosochka" is on its way, which cannot but "irritate" the Americans. After all, our systems have repeatedly confirmed the saying: "Where TOC, there is victory."