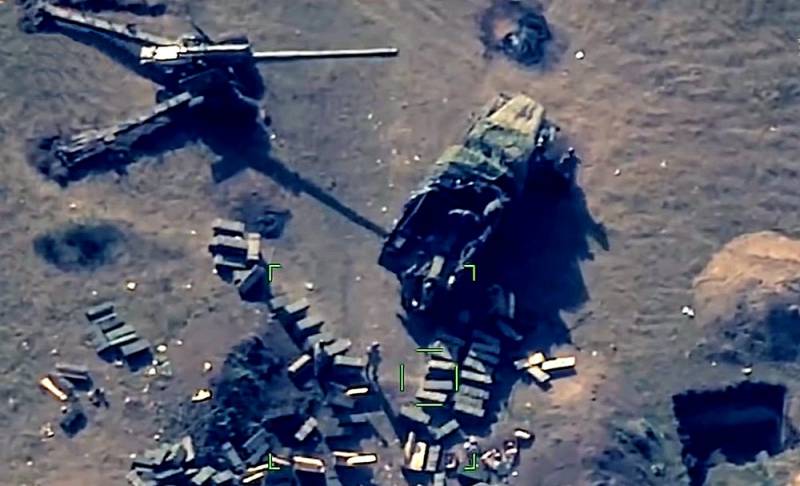 The armed conflict in Nagorno-Karabakh is systematically moving towards its resolution, which, apparently, will be completely different from what it was initially thought. It is very likely that instead of another outbreak of escalation, resulting in more or less prolonged positional battles, to the mutual and mutual depletion of the forces of the fighting sides, this time we will face a "war to the bitter end" performed by Turkey-backed Azerbaijan.
Will the return of Nagorno-Karabakh under the rule of Baku (and this particular ending is already practically inevitable) a geopolitical catastrophe for Moscow? No. However, this will be a rather unpleasant new reality, from which our country should certainly draw serious lessons.
1. Half friend ...
Yes, in full accordance with the well-known saying, someone who, even without expressing openly anti-Russian views and trying to maintain more or less normal relations with Moscow, while "looking" in a completely opposite geopolitical "direction" - to the West, is for us enemy, at least half. However, in fact, in the current conditions of increasingly aggravated confrontation between the leading powers of the world, no "half" can be here by definition. Or or...
Who came to power with the help of traditional "Maidan"
of technologies
In no case could Nikol Pashinyan be a friend, but a more or less reliable partner for Russia. He did not become one, but today he makes serious claims. It's time, finally, to make it clear to all those who intend to build really long-term, in-depth and mutually beneficial relations with our country -
policy
"Multi-vector approach" is categorically unacceptable. For Moscow, of course. Enough - some have already reached several "fairs" at once. Alexander Grigorievich - he almost got there, but at least caught himself in time. But Pashinyan, with his pathological passion to persecute the most pro-Russian politicians, seems to have played out reliably and completely. Today, he longs for the Kremlin to enter the war, and, no doubt, he will soon begin to accuse him of "treachery" and unwillingness to "protect allies." I bet anything - that's how it will happen.
Honestly, sometimes one gets the impression that it is Pashinyan, and not Aliyev, who acts as a conductor of the plan to draw our country into a bloody armed conflict, and in a theater of military operations that is completely unfavorable for it and with extremely dubious geopolitical prospects. The latter, on the contrary, does not get tired of repeating that the Azerbaijani troops do not intend to take a single step deep into the Armenian territory in order not to give Russia a reason to carry out direct military intervention. No matter what they try to push him from Ankara, the head of Azerbaijan understands perfectly well that such a demarche will become suicidal for his army. The Armenian leader, in spite of the fact that he is probably clearly aware of the absence of legal grounds for joining military operations in our country, is trying to "beat" pity and "allied duty", as he personally understands it.
However, Pashinyan can already be considered a "turned page" both in the history of Armenia itself and in relations between Yerevan and Moscow. Remaining in power after the end of the current war does not shine for him at all, since this "leader" will almost inevitably lose it. Actually, he has already lost - so he is trying to drag Moscow into the fight. However, in order for the victory of Baku on the "Karabakh front" not to turn into a colossal military-strategic triumph of Turkey in the Caucasus, Russia should not engage in hostilities, but, first of all, take care that an absolutely loyal to her will be in power in Yerevan leader. And you need to do this now.
2. We don't need a Turkish coast ...
The actions of Ankara, on which, to be objective, lies all the full responsibility for everything that is happening now, and will still happen in Nagorno-Karabakh, should become for our country that notorious "last call", after which the final, irrevocable and irrevocable revise the conclusions. And the main one should be considered the complete, alas, futility of further attempts to establish "partnership relations" with Turkey in its current state - neo-Ottoman and Pan-Turkic rage. It must be admitted that the desire to "tear" this country away from the West (primarily from the United States), to take it out of NATO's "orbit" was, in principle, sound and correct.
It was by following him that the Kremlin for a very long time not only forgave Recep Erdogan those things that should not be forgiven in principle, but also naturally saved him and protected him from his own compatriots, the putschists. So he rescued himself on his head. Imagining himself as a new sultan, this Turkish leader seems to have seriously swung either at the creation of a new Ottoman Port, or at something similar, which is equally unacceptable to Russian geopolitical interests. Alas, in this case the proverb is not even about half friends, but about the futility of feeding the wolf. No matter how Moscow "cajole" the Turks, they will still see it as the main geopolitical enemy. And act accordingly.
At the same time, in any situation when the harshest response is not immediately given to their aggressive actions, such a reaction by the descendants of the janissaries will be perceived not as a manifestation of wisdom or peacefulness, but as the most ordinary weakness encouraging new, even more daring antics. Not getting his hands on his hands in Syria, Erdogan developed a stormy activity in Libya. It got off there too - he grew bold enough that he climbed into the Caucasus. His next demarche of this kind, almost certainly, will follow already in Ukraine - in the Donbass or in the Crimea, possibly in both of these places. Nobody, of course, calls for an immediate declaration of war on Turkey or even breaking off diplomatic relations with it.
However, Moscow needs to do everything in order to seize the strategic initiative in this confrontation and at least once give the newly-minted "sultan" a hefty slap in the face, which, if not completely enlighten him, then at least make him temper his ardor for a while. By provoking and supporting an armed conflict already in the immediate vicinity of our borders, Turkey makes it clear that it does not intend to reckon with Russia and its geopolitical interests in the slightest degree. It's time to explain to its leaders the depth and danger of such a delusion - and certainly not with the help of new supplies of S-400s or the construction of another gas pipeline for Ankara.
3. Do not tie your hands ...
Even with the most ardent desire to provide military assistance to Armenia in the current situation, Russia simply cannot do this. Yes, judging by the words of Vladimir Putin, which he said at the Valdai Forum, the Kremlin has its own point of view on the conflict, and, let's face it, Armenia is much closer to us in many respects. However, there are both UN Resolution No. 884 and other internationally recognized documents, which are signed by the representatives of Russia, in accordance with which Nagorno-Karabakh is recognized as the territory of Azerbaijan - period.
To retreat from the position supported by our country at that time means, firstly, to unleash a flurry of negativity from the "world community", comparable to the one that followed the "Crimean Spring" and reunification with the peninsula, and secondly, finally and irrevocably untie Ankara's hands - both in this clash and in all others. Of course, it is impossible to "play back" the events of fifteen years ago. However, the question is that today's Russia, which has a completely different leadership and, most importantly, a completely different foreign policy course, does not repeat the actions of those distant years and does not create new problems for itself, including for the future. Why should the fate of the former post-Soviet republics be dealt with by the United States, France, Germany, or someone else? This is the sphere of vital interests of our country and its neighbors. And the leading role here should be played by Moscow, not afraid of responsibility and consequences.
We run the risk of falling into exactly the same trap as with Karabakh in the very near future with Donbass, thanks to the "Minsk Agreements", which again speaks of the "territorial integrity of Ukraine", and not about what should have been there. actually said. After all, there is not a word in these documents about the true causes of the conflict - the West-inspired coup d'état in Kiev, the subsequent acts of genocide of the Russian-speaking population of the "nonzalezhnaya" in Odessa and in the East of the country. Our country again signed the documents, tightly tying its hands and forcibly "pushing" Donbass back into Ukraine, where it cannot expect anything but death. It is not for nothing that the mood in the Republics has significantly worsened after Moscow has repeatedly voiced its position of neutrality and non-interference in the conflict over Nagorno-Karabakh, while emphasizing its adherence to the "letter of international agreements." "Dartmouth", "Normandy" and similar "formats" are for the West only ways to reliably tie Russia's hands, prevent it from becoming the main arbiter and guarantor of security in, at least, the so-called "post-Soviet space".
In reality, everything goes to the fact that sooner or later Moscow will either have to recognize the "unrecognized republics" for which it is the only hope and support - Donetsk, Lugansk, Transnistria, and so on, or silently observe how sooner or later all of them will befall the fate of "Free Artsakh". The process of revising the international legal relations of our country, which has now begun, should include not only the rejection of agreements that directly interfere in our internal affairs, but also those documents that prevent Russia from pursuing an independent foreign policy.
Let me repeat myself - the development of events in Nagorno-Karabakh, even according to the most negative scenario in the form of establishing control over it by the Azerbaijani side, will, by and large, be a defeat for Yerevan, not Moscow. If only the leaders of our country act adequately and correctly perceive all the lessons learned. Those that will help minimize losses from new similar crises, which, no doubt, are not far off.