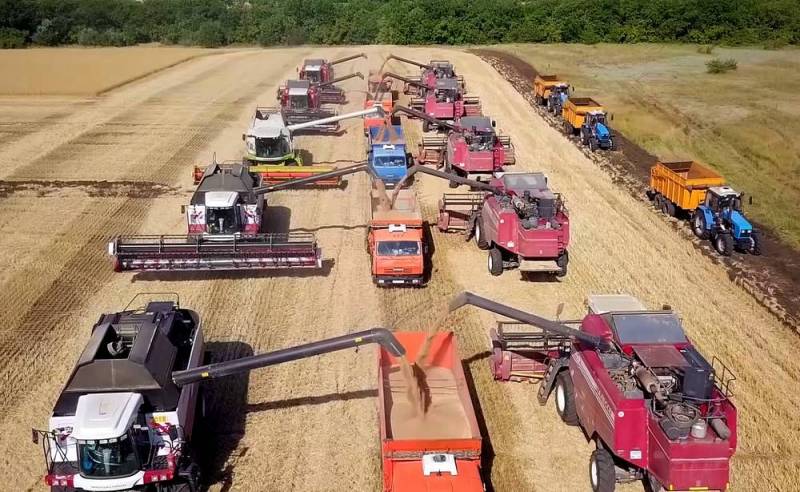 Prices for Russian grain are breaking new records. By the end of October, the cost of one ton of wheat reached 15 thousand rubles, barley - up to 11,27 thousand, corn - up to 13,3 thousand rubles. Importers are already asking prices for the marketing year 2021/2022. There is a high probability that wheat from Russia will only continue to rise in price. What are the reasons to believe so?
The phenomenal prices for Russian wheat are determined by a combination of several factors:
At first
frightened by the lockdown due to the coronavirus pandemic, many states have increased food imports to ensure their own national security, while producers, on the contrary, have reduced, holding back supplies for themselves for a rainy day. In the summer everyone seemed to relax a little and threw off their masks, but now the "quarantine nuts" have begun to tighten again. The situation is aggravated by the ongoing election campaign in the United States, the results of which will determine in which direction it will unfold
policy
"Hegemon". If, during the struggle for power, the parties turn to violence, this will negatively affect the entire world
the economy
.
Secondly
Climate change has had a major impact on this year's harvest. Due to the drought, many of the leading agrarian powers lost their harvest. It got to the point that, for example, France ceded a significant share of its traditional Algerian grain market to Russia. Experts also expected big problems in the Black Sea region for Russia itself and neighboring Ukraine. It was suggested that Moscow and Kiev in 2020 will not receive about 30% of the planned volumes. For comparison, in 2019 Nezalezhnaya harvested 29,2 million tons of wheat, and this was expected to be no more than 20 million. The result was better - 25,1 million tons. For our country, some foreign analysts "guessed" the gross grain harvest at the level of 73 to 75 million tons, but they were very mistaken, since domestic farmers harvested more than 120 million tons.
Such negative forecasts also have their positive side: the demand for food is growing, and with it the price. However, it would be extremely rash to ignore the climatic factor. Winters become abnormally warm and snowless, and the summer season becomes hot and dry. We cannot fundamentally change anything, so a high harvest in the foreseeable future may become a kind of lottery, no matter how lucky.
Thirdly
, China with its 7,2 billion population can have a major impact on the grain market. Today, China is the world's second largest consumer of corn after Mexico. She imports it from the USA, Argentina, Brazil and Ukraine. Basically, this type of grain is used in China for the needs of animal husbandry, but drought and storms have caused great damage to their own crops. As a result, Beijing decided to increase the quota for duty-free corn imports from 20 million tons to XNUMX million, that is, almost three times.
This will have dramatic consequences for the grain market. There are well-founded fears that now producers will be interested in growing this particular crop at the expense of others. Corn may push wheat, which will lead to further increases in prices for it.