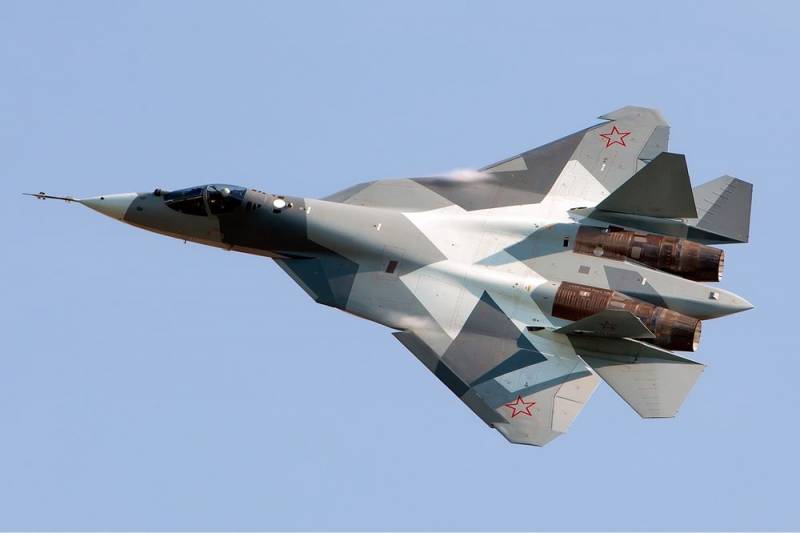 In the Khabarovsk Territory, the first serial multifunctional fighter of the fifth generation Su-57 took off. It took off from the airfield of the Komsomolsk-on-Amur Aviation Plant named after Yu.A. Gagarin, made a test flight and successfully landed on the runway.
In social networks, this Su-57 has already been nicknamed "the second first serial". The thing is that the pilot batch of fighters for the Russian Aerospace Forces was supposed to consist of a pair of Su-57s. But December 24, 2019
a crash occurred
the first serial Su-57 during factory tests. It crashed when the engines were checked during a test flight. The test pilot was not injured and managed to eject. The plane itself belonged to the manufacturer.
After the incident, all flights of the Su-57 were terminated. The aircraft manufacturers promised to sort things out and by the end of 2020 to transfer the new first serial Su-57 to the Ministry of Defense of the Russian Federation. Moreover, having specified that he will rise into the sky before the end of October. And while they keep their word.
In 2019, a contract was signed for the production of 76 Su-57 units for the Russian Aerospace Forces. The military plans to re-equip three air regiments with such fighters by 2028. However, until 2023, all production Su-57s will be equipped with engines of the first stage - AL-41F1 ("product 117"). Starting in 2023, the Su-57 should begin to install "product 30" (it does not yet have an index) - the engine of the second stage. Engaged in the development of the OKB im. A. Lyulki (branch of PJSC "UEC-UMPO") and how
claim
at the enterprise, on these power units the cruising speed of the fighter will be supersonic.