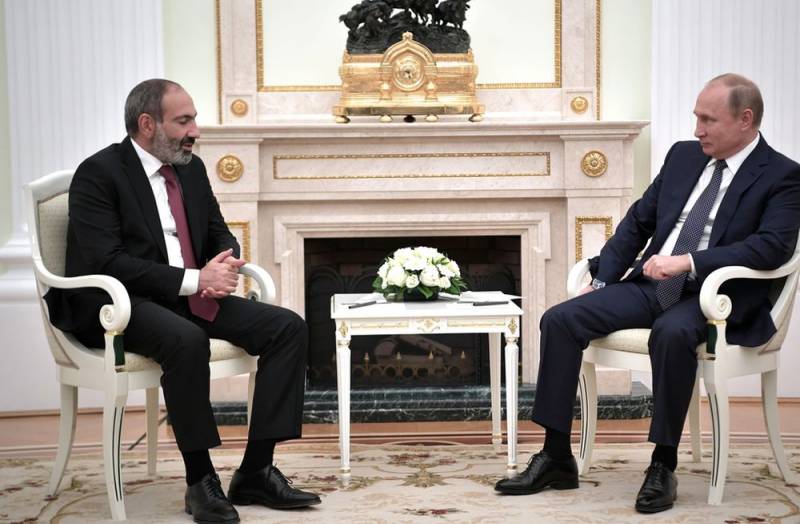 On October 30, 2020, Prime Minister of Armenia Nikol Pashinyan sent an official letter to Russian President Vladimir Putin asking for assistance to his country in the war with Azerbaijan. The Armenian Foreign Ministry informed the public about this.
The communiqué of the Armenian Foreign Ministry says that since the hostilities in Nagorno-Karabakh have approached the immediate borders of Armenia and we are already talking about encroachment on its territory, Yerevan asks Moscow to immediately start negotiations to work out "the form and degree of support for ensuring security." In the letter, the head of the Armenian government described the situation in the region. He noted the transfer of foreign mercenaries to Nagorno-Karabakh and reminded the Russian leadership of Article 2 of the Agreement on Friendship, Cooperation and Mutual Assistance of August 29, 1997.
We remind you that the deputy head of the State Duma Committee on CIS Affairs Konstantin Zatulin has made several statements recently, having shown activity in issues related to the situation around the conflict in Nagorno-Karabakh. On October 23, he announced on the air
Sputnik Armenia
, commenting on the threat of Ankara to send its troops to Nagorno-Karabakh, that an increase in the military presence of Russia in Armenia would be a response to the belligerent gestures of Turkey.
In his opinion, if Yerevan is sure that the moment has come to turn to Moscow for military assistance, then such a decision should be made. In addition, the deputy explained that the experience of "our operations" in Syria and a number of other countries indicates the existence of a real threat of the spread of terrorism.
Then you need to be tough. There is a serious problem in the region related to the blockade not even of Karabakh, but of the Republic of Armenia. And along with it, our military base in Gyumri, which should receive supplies
- he added.
Before that, Zatulin
говорил
that if Armenia officially turns to the CSTO for help, then Russia can make a "demonstrative strengthening" of the military potential on its territory. At the same time, Moscow will have to "clearly explain" to Tbilisi that it should not interfere with the Russian military aviation in the airspace of Georgia.
Note that Zatulin's statements were made after Turkish Vice President Fuat Oktay in an interview with CNN Turk
сказал
that Ankara will send its army to the region if Baku officially requests help.