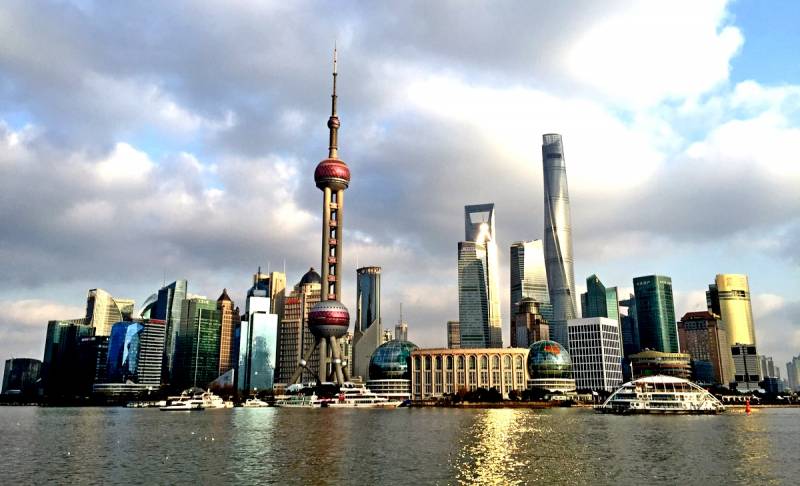 A few days ago, another five-year development plan for the country until 2025 was presented in China. Experts note that Beijing is now forced to take into account the factor of confrontation with the United States, therefore it delicately avoids specific numbers, but still intends to build a superpower.
"Chinese
economic
miracle ", which everyone so admires, is based on a combination of several factors:
At first
, the use of "five-year plans" with specific goals and objectives that they spied on from the USSR.
Secondly
, at the initial stage, the great competitive advantage of the PRC was a huge labor army of yesterday's peasants, ready to work hard from dawn to dawn for symbolic money. At present, much has changed in this regard: Beijing is investing heavily in education and science, many Chinese students study in the best foreign universities and, after returning home, expect a decent wage for their work.
Thirdly
, China opened its market to transnational corporations in exchange for providing them with access to advanced
technology
... TNCs created in China not only production facilities, but also research centers, where local specialists underwent training and practice. Today, the PRC is no longer associated with cheap knitwear, but with fashionable electronic gadgets, an actively developing auto industry, aviation industry and its own space program.
Fourthly
Beijing is consistently manipulating the exchange rate of its national currency, which gives an advantage to Chinese exporters, and in order to promote its own interests, China has entered the WTO. The authorities systematically support enterprises and industries aimed at foreign markets by providing them with credit, customs, tax and other preferences.
Fifthly
, a significant role was played by the "return to home harbor" of Hong Kong. Through it, China receives about 70% of foreign direct investment and makes almost 60% of its own investments abroad.
All this made the Celestial Empire not only a "world workshop", but also turned it into a real competitor to the United States of America. The trade war unleashed by President Donald Trump aims to slow down the rapid development of the PRC. The Chinese economy still has an Achilles' heel inherent in its very nature: export-oriented and huge population with very modest average income. Note that the new five-year plan is aimed at trying to eradicate these problems.
Beijing has set itself the goal of building a "socialist society of average income." By 2035, GDP per capita should reach "the average level of developed economies," which means countries such as Spain or the Republic of Korea. China intends to ensure the sustainability of its own economic model by increasing domestic demand. Also, the Communist Party of the PRC is going to protect the country from negative external factors through the development of agriculture, and the industry should be transformed taking into account "green technologies".
Technological development is at the forefront in China. If in the last five-year period science and technology were named a priority 4 times, then in the program from 2020 to 2025 - already 11 times. Moreover, it is emphasized that this should be done with self-reliance. It is obvious that Beijing intends to compete with Washington for the right to be considered an advanced technological power in the future.
For my part, I would like to express regret that some reasonable recipes for the "Chinese economic miracle" under the liberal tales about the "invisible hand of the market" in Russia were stubbornly ignored, and now China is not considered the real threat to the United States.