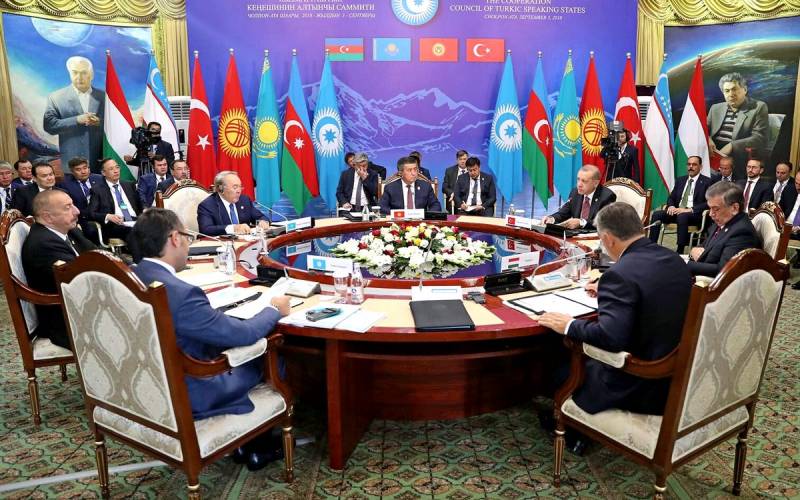 The visit of the Turkish Minister of Defense to Kazakhstan, and then immediately to Uzbekistan, caused a lot of noise. An ordinary, in general, event concerning the military cooperation of sovereign states, gave rise to talk about itself after a number of resonant publications in Turkey itself. If you believe them, Ankara gathers around itself a kind of united army of the Turkic peoples, or the "Army of the Great Turan."
The pan-Turkic aspirations of President Erdogan can no longer be hidden. It is interesting that it was Turkey that was the first to recognize the independence of the former republics in Central Asia from the USSR. Ankara directed investments, preachers, and opened broad educational programs to the post-Soviet space freed from the influence of Moscow. Interesting concepts were introduced into the media field: "Uzbek Turks", "Tatar Turks" and "Kyrgyz Turks". While the Kremlin was going about their business, Turkey was consistently integrating the entire Turkic world around it. In 2009, the "Turkic Council" was created, which included all countries, except for closed Turkmenistan, with a predominant ethnic group. President Erdogan said at a regular meeting of this organization last year:
Until today, we said "One nation - two states." Yesterday I said that now we have become one nation, five states. God forbid, Turkmenistan will also join us, and thus we will become one nation, six states, strengthen joint cooperation in the region.
"One nation - two states" is, if anything, Turkey and Azerbaijan. In the ongoing conflict in Nagorno-Karabakh, Ankara unequivocally sided with Baku and helped it win significant victories over Armenia, which is backed by Russia, which is allied to it within the CSTO. Against this background, the visit of the Turkish Minister of Defense to Kazakhstan and Uzbekistan is very symbolic and extremely dangerous for our country.
Today there are two largest military blocs in the world - NATO and the CSTO. One gets the impression that "Sultan" Erdogan intends to create a third, due to the collapse of the CSTO. Let us recall that, in addition to Russia and Armenia, this organization includes Tajikistan, Kyrgyzstan and Kazakhstan. Having provoked aggravation in Nagorno-Karabakh, Ankara killed several birds with one stone. First, it demonstrated to Russia's allies that the Kremlin did not stand up directly for Yerevan. Yes, there are justifications for this, but the fact remains: Armenia is retreating before the union of Azerbaijan and Turkey. Secondly, Turkey has demonstrated that it does not surrender its allies and is leading them to victory. Is this not the best advertisement for a military alliance with Ankara and anti-advertisement of the CSTO?
It is possible that after the end of hostilities in Nagorno-Karabakh and
political
Armenia's surrender of positions, Yerevan will put an end to its participation in the CSTO, which turned out to be, in fact, a meaningless piece of paper. The actual collapse of this organization will give reason to reconsider its participation in it for Kyrgyzstan, where another coup is taking place now, and for Kazakhstan, which is increasingly moving away from Russia. In this situation, in the medium term, we can expect the emergence of a "Central Asian NATO" under the wing of Ankara. Turkey itself is no longer very comfortable in NATO, and many of its formal allies are already talking about the need to exclude it from the bloc. The creation of a new military alliance of the Turkic countries could radically change the balance of power in the region. Under certain circumstances, Ankara and Baku may even agree to create a kind of "Union State", mirroring Moscow and Minsk.