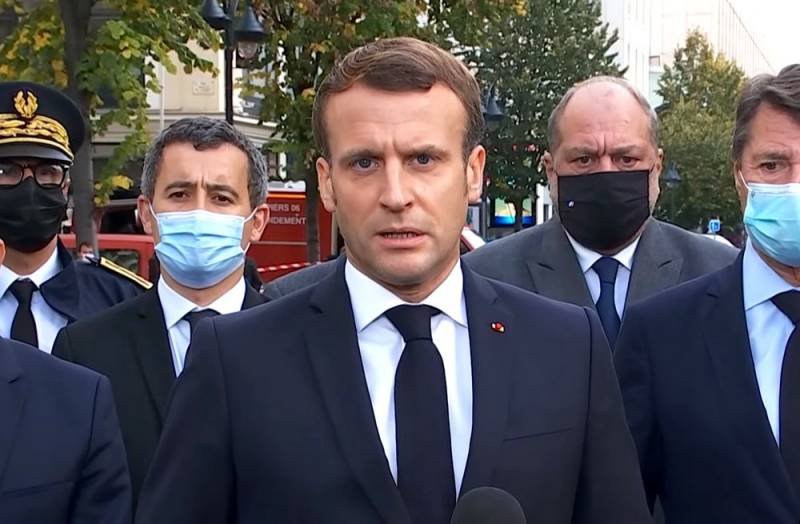 Europe's brain died. It seems that something similar was recently stated by French President Macron, speaking of the "brain" of NATO. One can even agree with his phrase about the North Atlantic Alliance. But now we must admit that this very brain died at the leadership of the European Union in general and Macron himself in particular. And he died a long time ago, apparently. At the moment, it just finally got out.
After several more terrorist attacks in France, all the world's media are discussing the horror of terrorism, the conflict between Emmanuel Macron and Turkish President Recep Tayyip Erdogan, as well as the cartoons of the Prophet Mohammed who provoked all this. Not for the first time, I note. On the "conscience" of these very caricatures of the Parisian magazine "Charlie Hebdo", which gained worldwide fame just after the terrorist attack with many victims, a total of more than twenty corpses. But ... apparently, it still seems a little to someone.
At the same time, conversations from all sides in the European and our media are about French national pride, about the values ​​of European civilization and, how could it be without it, democracy, as well as about how to fight for all this without fear of these very terrorists. Sounds like good. At first glance, one can even be glad that Europe has finally woken up and realized the threat of Islamic terrorism on its own territory, remembered its pride and historical traditions. But if someone thinks that this is actually so, I will disappoint - not so. From the word at all. This is not an epiphany, this is the very death of the brain.
Let's see where exactly all this is happening, in which Europe. This is happening in that very super-tolerant, multicultural and hospitable Europe, where the dignity of every person, his ideals and beliefs, including religious ones, is put above all else. This is where, in the same France, crosses are removed in schools so as not to offend the feelings of Muslim students. This is in Denmark, where traditional pork meatballs, and pork in general, are prohibited in canteens of educational institutions for the same reason. This is in Germany or Holland, where Christian symbols are removed at Christmas markets, from crucifixion to images of saints and the traditional scene of the birth of the baby Christ into the world. This is in Britain and Ireland, where, to please the "guests" who have come in large numbers, even Christmas itself is already called "seasonal holidays" ...
And to list further examples of such "respect" of Europeans for the feelings of visiting Muslims directly to the detriment of their own culture and traditions can be endless. Relatively recently, there was a scandal in connection with the Lidl retail chain popular all over Europe, where the crosses were "erased" on Greek yogurt packages from the image of Orthodox churches in the traditional local landscape. Well, so that suddenly, apparently, non-Christian buyers are not offended ...
But, they talked and stopped. And in fact, no one even knows how many more yoghurts or something else of the kind that simply no one noticed ... Is this super-tolerance? No, this is pure idiocy! After all, this is done by the same people who tell us about freedom of speech and protection of European values! These are those who are now calling on to continue to print cartoons that are harshly offensive to the feelings of Muslims around the world! Where is the logic? A cross and meatballs at school are not allowed - Muslims will be offended, the church on the yogurt lid is also terrible, and direct abuse of the fundamental figure of this very Muslim religion is okay, this is freedom of speech ... Moreover, this "freedom" is being introduced into the program the same schools where crosses, pork and short skirts are prohibited for a long time because of the same Muslims and the possible insult to their religious feelings. Christmas - the main holiday of Christians, by the way, and dairy products, the freedom of speech, apparently, also does not concern ...
Can anyone really say that all this together is the work of normal, adequate people?
And Emmanuel Macron urges to continue printing such "cartoons", allegedly in the name of freedom of speech. EU leaders express solidarity. Isn't this brain death? These same people have flooded Europe for decades with millions of Muslim migrants, tens of thousands of whom are outspoken Islamist fanatics. They taught them that everything is possible for them. They did not hinder the development and propaganda of radical Islam in any way. They forced the local population to respect newcomers and their values, and not vice versa. They allowed the creation of entire enclaves on their own territory, where the police do not go and where, in fact, the laws of European countries do not apply. And now what, have you decided to take them all at once to re-educate, integrate and teach them to respect freedom of speech and European traditions using the example of the dubious creativity of "Charlie Hebdo"? And in general, if what these citizens paint, we are offered to perceive as an example of some traditional European culture, then the question arises as to what form this culture still exists in, and if it exists ...
Of course, killing people, especially in the form of executions with heads off right in the street, is terrible. And nothing can ever serve as an excuse for this, let alone some cartoons, whatever is depicted on them ... But how does the French president react to this?
From his very appearance on the political horizon of Europe, it was clear that neither his native France nor the peoples of the rest of Europe cared much for him - the main priorities of Macron were and are the interests of transnational corporations and his own image as a world-class leader. But how much the French president does not care about his own people, it became clear only now. I'll try a comparison: imagine that you have a minefield in front of you, and you need to go to the other side. It would be logical to summon sappers, defuse mines and provide a safe passage, but then it would be better to go with extreme caution, carefully looking at your feet. But the French president in such a situation invites his fellow citizens to literally move forward in a crowd, not to be afraid of anything, and it is best to wave flags, sing and dance loudly so that the enemies do not think that they are afraid ...
Apparently, he does not care much about the number of possible new victims on this stupidly "fearless" campaign - he understands well that he himself will definitely not be among them. And the heads of all EU states, as well as the leadership of the European Union, that is, the very same people who created this "minefield", fully support him in such undertakings.
After that, someone will say that the brain of Europe is still alive?