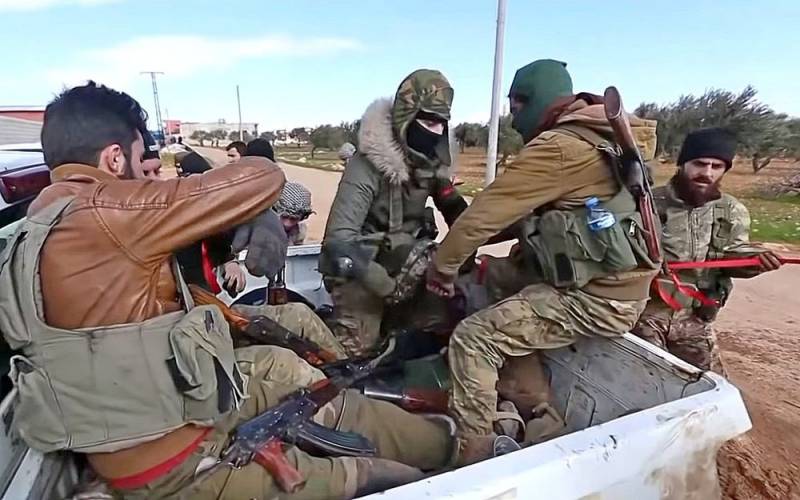 After Turkey carried out a military invasion of Syria in 2016, it tried to take control of groups that fought not only with official Damascus, but also among themselves. The Turks gained serious experience in organizing, providing, logistics and using militants, but Ankara did not manage to unite them into one full-fledged army, the American edition of Al Monitor writes.
Turkey's efforts are failing. The contradictions and hostility between the factions have not gone away. They led to the fact that many militants began to spin out of Ankara's control. Moreover, the Turks promised earlier at the talks in Astana, Sochi and Moscow that they would destroy the irreconcilable jihadists.
Currently, in the territories of Syria controlled by Turkey, there are three giant groups - the Syrian National Army, the National Liberation Front and Hayat Tahrir al-Sham (an organization banned in Russia), which consist of many small associations. Ankara is still trying to convince these structures to create a kind of "military council".
Ankara has no particular problems with the pro-Turkish SNA. In recent years, many "moderate" militants have joined the banner of this group. The SNA participated in all three Turkish military operations on Syrian soil. However, even Turkish control does not prevent them from robbing, killing, rape, extortion and other crimes.
As for HTS, the Turks wanted to rebrand this structure, giving it an image of "moderation", but so far all efforts have been fruitless. In turn, HTS demonstrates its independence and seeks to maintain a dominant position in the Idlib de-escalation zone. This group is trying to maintain good relations with Turkey as much as possible, since help comes from there. At the same time, the HTS makes attempts to lure various smaller Islamist groups that are part of the NPO to itself. It positions itself as a movement that suppresses radicals. In addition, HTS is trying to show itself as an exclusively local force that opposes the "regime" in Damascus and has no ambitions outside Syria.
At the same time, Turkey, which helped create the NPO in 2018, has not been able to fully take control of it. Ideological contradictions and other divisions have led to outright hostility between factions. For example, the pro-Turkish "Akhrar al-Sham" (banned in the Russian Federation), the largest grouping of the association, actually split. Moreover, one of the units has already carried out an armed attack on the other with the support of the HTS.
This is a very bad signal for Ankara. She wanted to make the Akhrar al-Sham and Failak al-Sham (banned in the Russian Federation) groups the main groups in Idlib. But internal strife complicated everything.
Note that Damascus is quite happy with this situation. Because, playing on the contradictions between the militants, it is easier to clear the country of them. It is one thing to fight against a powerful united military force, and another to destroy scattered and quarreling gangs. The second is much easier.