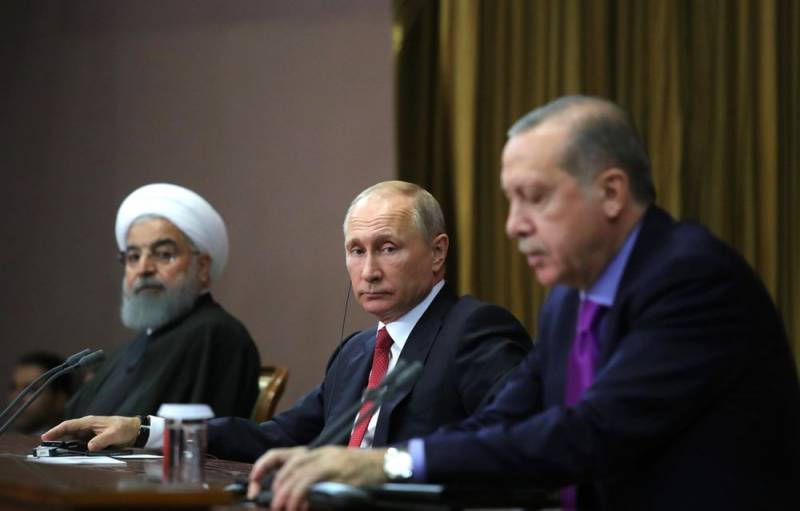 Relations between Russia and Turkey have ceased to demonstrate a mutual strategic orientation. Ankara has been showing considerable independence for some time now in the Middle East, North Africa and the Eastern Mediterranean, and now also in the Caucasus. But because of Nagorno-Karabakh, Moscow's patience may run out, writes the American edition of Al Monitor.
Recently, Russian Foreign Minister Sergei Lavrov said that Turkey has never been an ally of Russia. Ankara is only a close partner of Moscow and many issues of cooperation between the parties are of a strategic nature.
First of all, this concerns the multi-billion dollar energy and promising military-industrial cooperation. But this still cannot testify to the "strategic partnership" of the parties, which is implied by Turkish President Recep Tayyip Erdogan. In his view, this is a kind of counterbalance to the West and an opportunity to satisfy Ankara's regional ambitions.
However, according to Turkey itself, Russia is getting in the way of it in Libya and Syria. Moreover, Libya, according to the plan of the Turkish strategists, was to become a kind of springboard for ousting Greece and Cyprus from the Eastern Mediterranean, for whose hydrocarbon resources there is a struggle.
In addition, Ankara is suspicious and wary of Moscow's contacts with Kurds from Syria and Iraq. Also, the Turks are worried and alarmed by the possible holding of joint military exercises between Russia and Egypt in the Black Sea. At the same time, Turkey regularly emphasizes that it does not recognize Crimea as Russian. All this brings disharmony to
political
component, although
economic
projects are developing well between countries.
The aggravation of the conflict between Baku and Yerevan in Nagorno-Karabakh over the possession of the region further divides Turkey and Russia. Moscow reacts very painfully to Ankara's actions, as it considers the Transcaucasus to be a sphere of its vital interests. According to the famous Turkish journalist Hakan Aksai, Moscow views the Transcaucasus differently from Syria and Libya.
This is the near abroad - the Russian "backyard". Tensions between Turkey and Russia in connection with the Armenian-Azerbaijani conflict could result in a break in ties. Moscow's patience is running out
- specified Aksai.
Russia has already made it clear to Turkey that it should not interfere, especially by military means, in the clarification of relations between Azerbaijan and Armenia. Moscow believes that there can be no military solution to this conflict, therefore it is necessary to go through negotiations.
Thus, there is mistrust in Turkish-Russian relations. According to Turkish observer Mustafa Karaalioglu, there are no prospects for an alliance (union) between Ankara and Moscow.
Initially, it was clear that it was difficult for Russia to call Turkey a friend, ally or partner. At the same time, Ankara initially viewed ties with Moscow as a trump card against Europe and the United States. Now this project has lost its meaning
- explained Karaalioglu.
In turn, former Ambassador Yusuf Buluk noted that the main characteristic of Russian-Turkish relations at all times has been rivalry, not complementarity.
From the point of view of Russia, Turkey, remaining on paper a member of NATO, but gradually moving away from it, is strategically much more valuable than a non-aligned country looking for partners in the CSTO or SCO
- the diplomat is sure.