The new delivery of Russian armored vehicles to the armed forces of the Central African Republic once again confirms Moscow's influence in this country and on the continent as a whole, according to a new article from the Parisian magazine Marianne. The former Soviet "big brother" is trying to return at the risk of crossing France's road in certain areas.
On October 15, a convoy of several BRDM-2 delivered by the Russians drove through the streets of the capital of the state - Bangui - surrounded by a cheering crowd. The cars fluttered the flags of the Russian Federation and the Central African Republic.
In total, by the end of the year, about 20 BRDM-2s should enter service with the armed forces of the CAR. The article notes that the country's army continues to suffer from a partial embargo on heavy weapons, which has been in effect since 2013. It was here that the Russian Federation offered its help.
Russia's growing involvement in the affairs of the Central African Republic is part of Moscow's broader strategy on the African continent

- believes Jean de Gliniaty, the former French ambassador to Russia.
In the period from 2014 to 2019, Russia became the main supplier of weapons to the African continent. Almost half (49%) of all imports in this area are in the Russian Federation.
Russia sells almost twice as much as two other large suppliers - the United States (14%) and China (13%). France, historically active in the Black Continent, now ranks fourth with 6,1% of the market.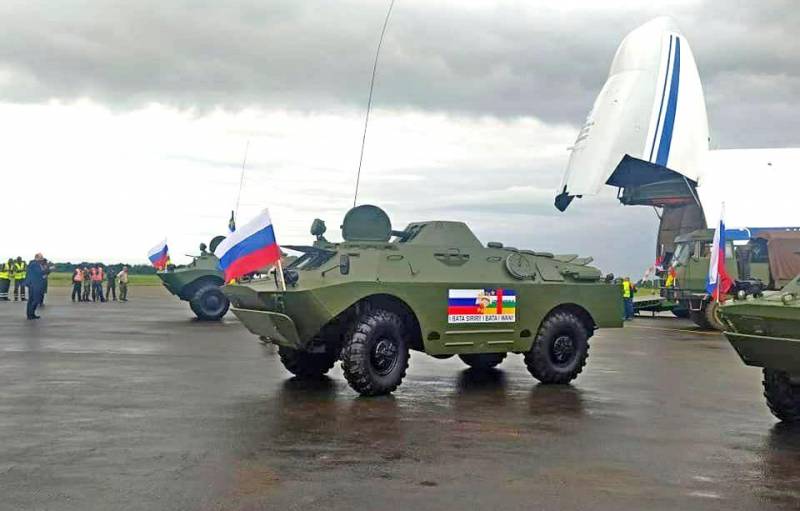 In 2000, only 16 African countries bought weapons from Russia, and today there are already 21 of them. Thus, it is noted that the actions of the Russians may be to the detriment of the interests of France.
The first important argument in favor of products from the Russian Federation is the price. It is believed that not all states that prefer to turn to China and Russia can afford expensive American and European military equipment.
Also plays in favor of the Kremlin and
policy
.
Russians recognize the local government as it is, defending the principle of non-interference. Moreover, they do not rely on human rights and take advantage of the absence of a colonial past. These arguments are quite popular.

- adds de Gliniasty.
The return of Russia to the continent is also taking place through the formerly friendly countries of the USSR, such as Algeria, Mozambique, Ethiopia and Angola.
While Moscow is expanding its influence, French academics and diplomats agree that Russia's weight on the continent remains negligible and its ability to advance its interests should not be overestimated.