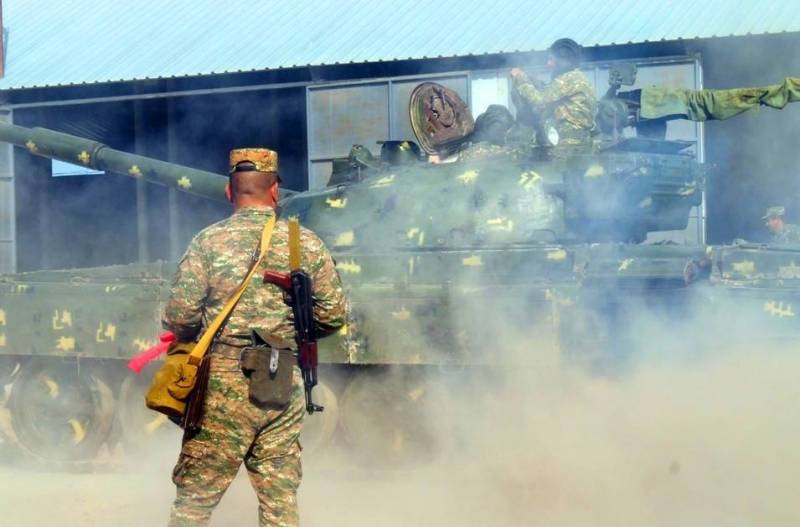 The Karabakh conflict continues. Despite the pacifying talks at the highest level, meetings of foreign ministers and several ceasefires announced and immediately broken. All participants and observers of the process call on the warring parties to peace, but ... somehow sluggishly ...
One gets the impression that they decided to let this long-ripening "abscess" of Transcaucasia completely drain out, since it burst anyway ... To cleanse this old wound, so to speak ...
All in different ways parse the fresh speech of our president at Valdai - ... what did he mean by that? ... And what is hidden behind this phrase? But regarding Karabakh, Turkey and everything around it, the President, in my opinion, spoke quite unambiguously. But his words can in no way be considered in isolation from what he does in practice. In particular, on another "Turkish front" - in Syria. From his last words and actions it follows exactly:
a) We are not going to quarrel with Turkey over the Karabakh problems as long as Turkey remains where it is now, even with all the negative factors already taking place. At the same time, this is a signal to the Turks so that they do not soar in their desires and appreciate what they have.
b) Armenia, and most importantly, no one will help its regime until the troops of the third state try to enter Armenian territory directly. And this, as we all understand, is unlikely to happen - Aliyev is too smart to make such mistakes.
c) The conflict will most likely be allowed to "burn out", no matter how cynical it may sound from the point of view of the human lives of the participants. But here for the Russian Federation this is even a very specific question about whether it is worth giving funds and, most importantly, the lives of its citizens, in exchange for the lives of citizens of foreign states, even without having a clear idea of ​​the end to which this whole drama should lead ... But there are more than enough negative consequences, and they are all known in advance.
What follows from this if I am right with the above? I don't know how the issue of Karabakh itself will finally be resolved. Most likely, the calculation is not the impossibility of ethnic cleansing in modern Azerbaijan, there will be something like autonomy or, in the worst case, a "frozen" conflict within a country like Transnistria or Kosovo. How close and whether Azerbaijan will become closer to Turkey after all this is also difficult to say. But with Armenia, everything will be relatively simple. Despite the victorious reports from both belligerents, Azerbaijan increasingly believes in a real victory. In addition, the Azerbaijani troops, being superior in strength in all respects, operate on their territory and, according to all existing legal articles, lawfully. Without provoking the Russian Federation and the CSTO, Aliyev will carefully squeeze the Armenian troops out of his territory and stop at the border.
In general, by the way, it is not very clear why, when the CSTO is mentioned, assistance is expected specifically and exclusively from the Russian Federation? There are several states in this organization, and everyone is obliged to protect one of the members in the event of aggression, as well as to resolve the issue of participation in a particular conflict, as well as jointly and bear the burden of all the corresponding consequences of such actions.
The CSTO will not intervene, no one will attack a member of the organization and did not intend to. But Armenia will still face a lost war, albeit on a foreign territory, followed by massive discontent within the country and, as a result, a crisis and a change of power. That is, Pashinyan will definitely be removed, and in about the same way as he appeared. I don't know how adequate such a comparison is, but, in my opinion, Pashinyan is such a "Tikhanovskaya, who did everything right away" at one time, therefore there was no abroad, radicalization and a sharp change of course. Although, under his control, Armenia farther and farther and "moved to the West." Not abruptly.
Now is the time to think about what role Russia will play in all this - it will again silently reconcile itself with another hostile "king" in the post-Soviet space or actively participate in the establishment of a new Armenian leadership, taking into account its own interests. There are all the tools for this, including power tools right on the spot. All these speeches by Vladimir Vladimirovich about the fragility of young post-Soviet democracies and their regimes are, of course, wonderful, but we all see what they instantly turn into, falling into the zone of influence of our enemies - into rabid mongrels splashing with russophobia saliva right at our doorstep. So which is better? And continue to breed evil mad dogs around you or insert them into these regimes, if they are so fragile and have not grown stronger in thirty years of independent existence, a strong iron rod, by force and from the outside, so that they do not fall apart?
The USSR, just twenty years after its revolutionary education and the accompanying devastation and degradation, entered the most terrible war in history with the most powerful enemy in history, and withstood, won! And here, you see, thirty years of peace, independence and democracy, and all of them are still fragile ... This means they failed, and enough to experiment with this - it's too expensive, the lives of entire generations of our people are "at stake." Especially if there is a threat that these experiments of neighbors may result in themselves and us to the detriment of, and only to the benefit of someone overseas again and again. And there is such a threat, it is quite real. Moreover, there is already a very real experience of its implementation.
Nikol Pashinyan and those who are behind him and who pulled him to this post are naturally negative figures for Russia. Apparently, they turned out to be negative for Armenia's neighbors. Otherwise it is difficult to explain what is happening now - the parties simply refuse to come to an agreement. Moreover, Pashinyan, constantly shouting out some slogans, clearly does not know what, even in theory, he can agree with Azerbaijanis and what to offer them, and Aliyev simply does not see the point in a serious conversation with Pashinyan, not counting him as responsible and strong
political
figure. And now, if now, having given the Azerbaijani army to clear its own territory, Russia starts to speak out for Armenia (here "for" not in the sense of on its side, but in the sense instead of), and it will present Azerbaijan with acceptable conditions for stopping the conflict, then later so we will and will speak "for" Armenia. And practically any conditions in this situation will be acceptable for Azerbaijan, because they will be, in fact, Azerbaijani - Armenia, having lost the war, will simply not be able to seriously demand anything, and any way out to meet Azerbaijan will be interpreted as a success. And the success of Russia in this case, and all the power of media propaganda that we have must be connected to this. And if Armenia as a result enters the tough zone of influence of the Russian Federation, then this will only become an additional guarantee of security for Karabakh itself, in whatever form its existence further takes shape.
Moreover, based on all recent international events, the most powerful regional players and neighbors of Armenia - Turkey and Iran - are also unlikely to support the establishment of a purely pro-Western regime in this country. It cannot be said that they will be very happy with the pro-Russian regime - for them it would be best "about their own", but for the impossibility they will have to choose "from two evils." And the Russian presence in the region is already a familiar thing, somehow we have lived with it for so many years without conflict. What can not be said about the West at the moment - a serious split is clearly deepening among the Turks and the Persians with the "world of developed democracy". Iran has an old one, Turkey has a new one.
As for the directly personal specifics of the new Armenian government, it is quite possible that at the initial post-war stage it should be generally solved by importing from outside - there are also enough educated, capable and patriotic representatives of the Armenian people in Russia. And then, having made a deep cleaning of the local "sorosyatnik", it is possible to start educating a new elite on the spot.
And this should be done not only in Armenia. Otherwise, we will voluntarily give ourselves up soon to be devoured by the rabid dogs that surrounded us from all sides - our former "fragile" neighbors, to whom we have treated so carefully and carefully for three decades ...