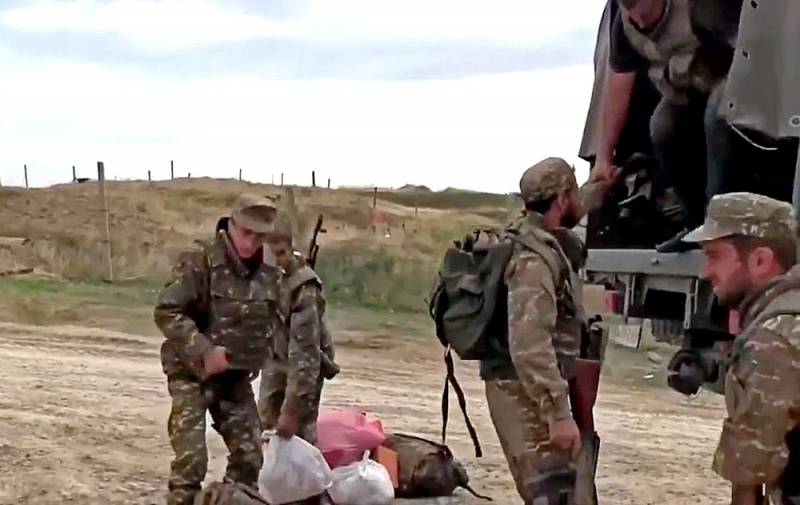 A video of a dialogue in a raised voice between the Armenian military in Nagorno-Karabakh, who are leaving their combat positions, retreating under pressure from superior enemy forces, appeared on the Web. The footage caused a great resonance on social networks, especially among the "experts" who are at home, without firing outside the window. Some users were quick to accuse the Armenian military of cowardice.
In the video, soldiers of one of the Armenian units explain that they cannot normally fight without air defense cover when they are cold-bloodedly shot from the air by drones of the Azerbaijani Armed Forces. They do not have enough weapons and ammunition, and everything else that is needed to hold positions.
We go with a slingshot against tanks
- said one of the military.
The person who filmed this video promised to hand it over to the authorities so that they would punish the servicemen.
If you look at the map of that area, it becomes clear that the Armenian military is retreating to the mountains. They want to rise as high as possible and gain a foothold in new, more comfortable positions. The mountains there reach 1700 meters in height, becoming a real problem for the attackers.
And in the mountains it is very problematic to use drones. They need to constantly maneuver so as not to meet some sudden obstacle. If drones fly over mountains, they will have difficulties with target detection and firing accuracy.
In addition, cloudiness will interfere with drones. This is well understood by the Armenian military, who desperately "climb" as high as possible. They are pushed to this by the logic of waging war in new conditions and the instinct of self-preservation.