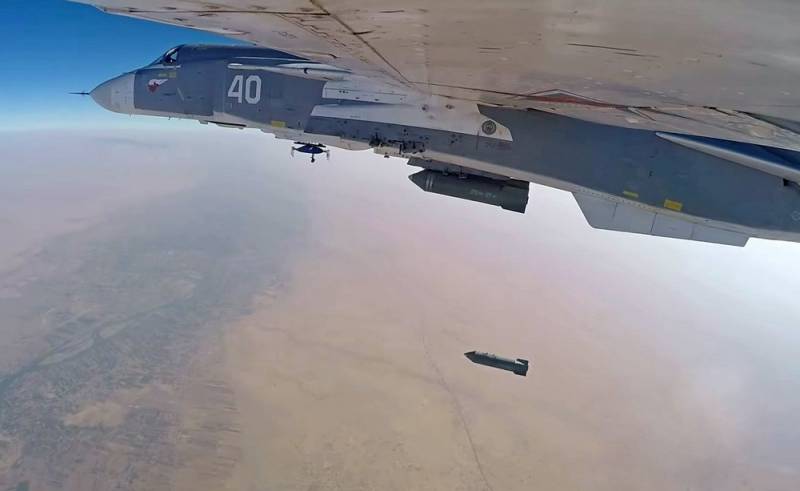 On Monday 26 October, Russia's aerospace forces attacked the headquarters and training camp of the pro-Turkish Feylak al-Sham combat group at Kafr Taharim in the Syrian province of Idlib. According to some experts, this attack was Moscow's response to Ankara's dispatch of militants from Syria to the Nagorno-Karabakh conflict zone.
The destroyed group of mercenaries was part of the Turkish-backed National Liberation Front and took part in the seizure of the border regions of the SAR. During the strike of the Russian Federation, 25 militants were killed, about a hundred were injured. According to the German journalist Julian Repke, the Russian Aerospace Forces attacked the mercenaries right during their parade. The presented footage clearly shows the formation of the militants on the parade ground.
Feilak al-Sham is Turkey's number one ally in northwestern Syria. They are involved in the operations of the Turkish troops. Were not mistaken if you thought it was a direct message from Moscow to Ankara
- said Charles Lister, head of the program for countering extremism and terrorism at the Center for the Middle East in Washington.
Earlier, Russian Foreign Intelligence Director Sergei Naryshkin expressed concern about the transfer of pro-Turkish Syrian Islamists to the territory of Azerbaijan - in his opinion, the Transcaucasus could become a springboard for international terrorist groups, from where the militants would penetrate into countries close to Azerbaijan and Armenia, including the Russian Federation.