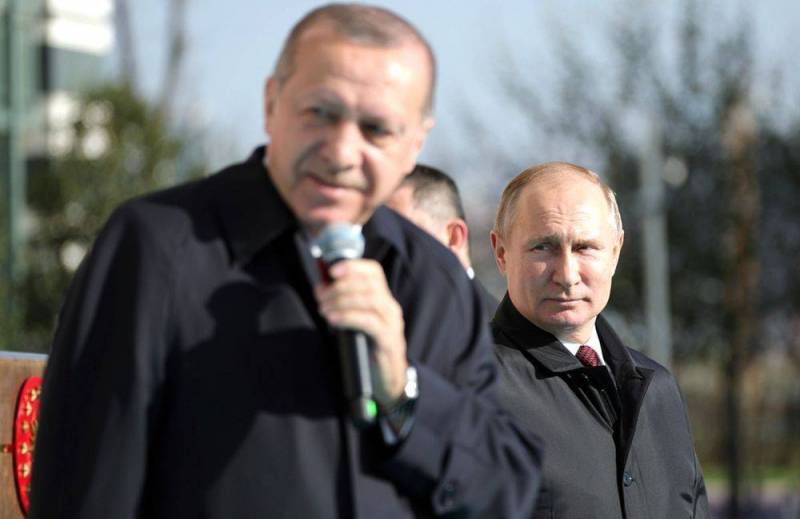 In the realities of modern international
policy
tension or rivalry between countries does not necessarily preclude opportunities for cooperation. For example, Turkey interacts with Russia through the Turkish Stream pipeline and S-400 systems, but at the same time competes with it in Ukraine, Nagorno-Karabakh, Libya and Idlib. And Putin gives appropriate assessments of the level of relations between Russia and Turkey. The Turkish resource Daily Sabah writes about it.
Thus, at Friday's press conference, the Russian president once again praised Erdogan, noting that Turkey adheres to an independent foreign policy, despite pressure from outside. He complained that Moscow could not complete European energy projects as quickly as it did with Turkish Stream. Recalling Erdogan's determination to buy the S-400 system, Putin noted that "working with such a partner is pleasant and safe."
On the one hand, Turkey's discovery of natural gas in the Black Sea reduces its dependence on Russian energy resources. On the other hand, the conflict in Nagorno-Karabakh is forcing Moscow to cooperate more closely with Ankara in the Caucasus.
Putin told reporters last week that he was not worried about Russia's differences with Turkey over the South Caucasus region, stressing the need to seek opportunities for mutual concessions. Erdogan, in turn, reaffirmed his commitment to play a role in solving regional problems both at the negotiating table and on the ground.
Another possible reason for Putin's search for compromises in relations with Turkey is the imminent presidential elections in the United States and the possibility of the Democrats winning them. In this case, relations between Washington and Moscow may deteriorate, and the Kremlin is looking for new allies, playing on the contradictions between Turkey and NATO.
The million dollar question is why Putin regularly praises Erdogan? Maybe he foresees future tensions between Russia and the United States?
- note the experts of the Turkish edition.