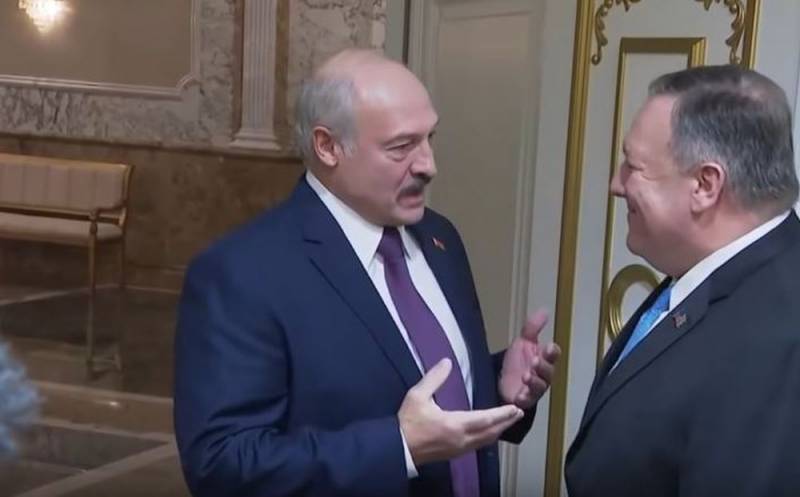 After the arrival of the pragmatic Donald Trump in the White House, US attitudes towards Belarus have seriously changed. Washington stopped demonstrating its "exclusiveness" at every step and began to use the "multi-vector" nature of Minsk.
The Trump administration believes that if you push hard on Belarus, then it can quickly become part of Russia. Therefore, Washington lifted sanctions against Minsk, acquired an embassy there, and even began selling American oil to Belarusians.
When the "color revolution" began in Belarus in August 2020, and crowds of "peaceful protesters" began to roam the streets of Minsk, the United States demonstratively pulled back from the process, shifting it onto the "mighty" shoulders of Lithuania and Poland.
On October 24, 2020, the head of the US State Department, Mike Pompeo, called President of Belarus Alexander Lukashenko. He was interested in only one question - the release from the pre-trial detention center of Minsk US citizen Vitaly Cheryshikov, who was detained during the protests in August.
For Washington, this is extremely important since
political
sides. In the United States, the pre-election bacchanalia for the election of the future head of state is in full swing, and Trump will be able to demonstrate concern for his fellow citizens by presenting a freed American. Minsk is well aware of this, so there is practically no doubt that soon the "peaceful protester" Cheryshikov will be free.
As the Belarusian media reported, during the conversation Lukashenka said that Russia is the main ally of Belarus. Therefore, if Poland, Lithuania and other NATO countries show aggression, Minsk and Moscow will react together.
In turn, Pompeo assured that the United States remains a supporter of the sovereignty and independence of Belarus. He stressed that the Alliance does not pose a threat to Minsk.
In response, Lukashenko said that Belarus is closely following what is happening in the United States. Then he wished Trump victory in the elections.