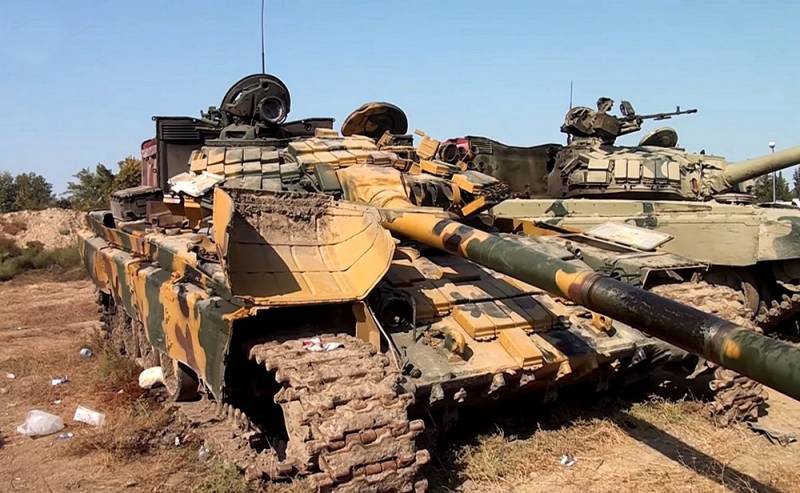 Another aggravation of the long-standing conflict between Azerbaijan and Armenia in Nagorno-Karabakh has been going on for almost a month. At the same time, the hostilities are notable for extraordinary bloodshed: according to Russian President Putin, almost five thousand people died on both sides in just four weeks. What explains this amount of losses?
First of all, it should be noted that in war it is customary to overestimate the enemy's losses and underestimate their own in order to raise morale. It is not surprising that Baku or Yerevan will hardly agree with the Kremlin's figures. But in this matter, Russia is an emphatically neutral side, therefore, the data of domestic intelligence and counterintelligence, which, obviously, is operated by President Putin, deserve more trust than Armenian and Azerbaijani propaganda.
In less than a month, it is a lot to lose irrevocably more than two thousand servicemen. For comparison, during the Afghan war, on average, the USSR lost 125 internationalist soldiers per month. During the conflict in Transnistria in 1992, the Moldovan army lost 286 killed and 284 wounded, and Tiraspol - 826 people, of which 310 were civilians. The Serbs lost 1998 people in Kosovo in 1999-1002, mostly at the hands of Albanian militants, not NATO air bombings. If we go back to the history of the conflict in Nagorno-Karabakh itself, then in 1992 Yerevan lost 2500 people, Baku - 3300, in 1994 - 2000 and 4000, respectively. And in 2020, comparable numbers come out in just a month. Whom do you need to "thank" for?
At first
, one should take into account the high level of motivation and bitterness on both sides. Now there is another relapse of the long-standing interethnic conflict. Fighting can be done in different ways, and unacceptable damage to the enemy can be inflicted in different ways. You can destroy mainly combat
machinery
, military industrial facilities,
economic
infrastructure in order to force him to sit down at the negotiating table and achieve some political result. Of course, there should be no illusions about this, there will be losses among the servicemen and civilians who have fallen under the distribution in this case. And you can beat his manpower, guided by the principle of "blood for blood." One gets the impression that the Armenians and Azerbaijanis are now doing just that.
Secondly
, a large share of the responsibility for what is happening lies with external sponsors, "urging" Baku to continue the war to a victorious end, which in principle cannot exist. First of all, we are talking about Turkey, which pumps Azerbaijan with weapons and supplies its military advisers, who are obviously involved in the development of the strategy, as well as Israel, which supplies Baku with the most modern types of heavy weapons. It's not hard to guess that Tel Aviv is interested in pushing Turkey and Russia, and possibly Iran, against each other.
The most regrettable thing is that no one will allow President Aliyev to fully return control over Nagorno-Karabakh. The world community does not need a second Armenian genocide, if the Azerbaijani army goes too far in every sense, it will be stopped. The victory of Aliyev and his "friend" Recep Tayyip Erdogan is not needed. On the contrary, Ankara is extremely interested in the eternal conflict in Transcaucasia, in order to legalize Turkey's military presence there. Recently, the "sultan" bluntly stated:
Turkey, like Russia, has the right to be here for the sake of establishing peace. You know that Turkey is also a part of the OSCE Minsk Group, but the troika (co-chairs - Russia, France, the USA) could not find a solution. Azerbaijan rightly says: If Armenia offers Russia, then we offer Turkey.
In practice, the "establishment of peace" will result in the construction of a Turkish military base in Azerbaijan, or even more than one. It is quite possible that President Erdogan's plans are to reach the hydrocarbon-rich Caspian Sea. As a matter of fact, it is for this, and not the restoration of territorial integrity, that more than two thousand Azerbaijani soldiers have already died. How many more will die?