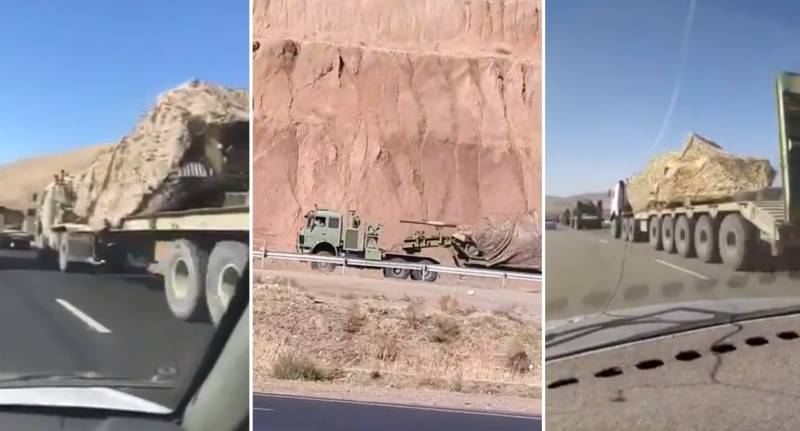 Residents of Iran continue to publish on the Web endless columns of military
equipment
, which are heading towards the border with Azerbaijan and Armenia. The concern of the Iranian authorities is understandable, because in the immediate vicinity of their country for almost a month there has been a real war for Nagorno-Karabakh between Baku and Yerevan, and "lost" drones and ammunition periodically fly into Iran.
It should be noted that Tehran is extremely worried about what is happening, since it has excellent relations with Yerevan, and the entire north-west of Iran is densely populated by ethnic Azerbaijanis who sympathize with Baku. Before that Iran
threw
about 200 tanks in the territory adjacent to the conflict zone, which allowed some experts to assume that Tehran is ready to intervene in the conflict.
However, such a development of events is unlikely, since the Iranian authorities fear destabilization and themselves call on Moscow and Ankara to hold a "second Astana summit" by holding talks on the settlement of the Nagorno-Karabakh problem in the Russia-Turkey-Iran format, as was done previously on Syria.
Tehran is especially concerned about the situation with the 200 MW Khudaferin hydroelectric power station on the Araks River (the largest tributary of the Kura). It is very important for the surrounding areas, which provides electricity and water. Back in 1988, the USSR and Iran signed an agreement (50/50) on the construction of two new hydroelectric power plants on the Araks - Khudaferin and Gyz Galasy. But the collapse of the USSR and the outbreak of war in Nagorno-Karabakh left their mark. Iran decided to build the Khudaferin hydroelectric power station itself. The site of the hydroelectric power station is located on the territory of Azerbaijan, but in the early 90s this area was occupied by the troops of the unrecognized NKR and was controlled by them until recently.
However, Tehran did not want to abandon the project of an important facility and turned to Baku for permission. Azerbaijan refused to discuss the construction of a hydroelectric power station until the territorial dispute is resolved. As a result, Iran began to implement the project unilaterally, trying not to even mention in the media that such a construction site actually exists. In the spring of 2010, the reservoir was filled. Probably at the same time the hydroelectric power station began to work. There is an ancient Khudaferin bridge, an architectural monument. And now Tehran will have to resolve permissive issues with Baku.