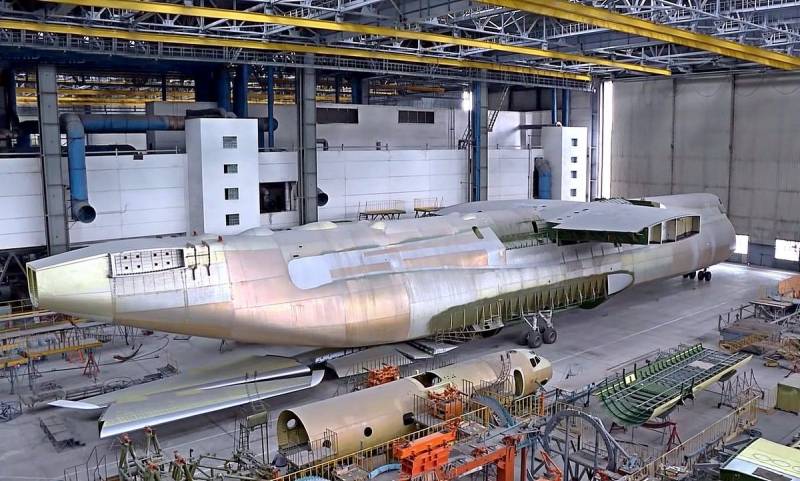 Deputy Head of the Ukrainian Cabinet of Ministers, Head of the Ministry for Strategic Industries of Ukraine Oleg Urusky said that Ankara could help Kiev and finance the completion of the second copy of the An-225 Mriya. He told reporters about this on October 23, 2020 during a briefing, writes the Ukrainian portal Defense Express.
Urusky explained that questions on this topic "suddenly" arose during
recent visit
high-ranking Ukrainian delegation to Turkey. Ankara is very interested in the An-124 Ruslan, but the Ukrainian side has serious difficulties with the production of these aircraft. Therefore, the Turkish side was offered the option of completing the second An-225 Mriya. For more than 30 years, this Soviet super-heavy-duty transport jet has been inside a huge aircraft shop at the Antonov State Enterprise and is 70% ready. Therefore, it can be completed if money is available.
The situation was quite exotic for me when, during our visit, the President of Turkey and I touched upon the issue of completing the second "Mriya". Even despite the amount that was announced by the Ukrainian side about the need for the implementation of this project, the Turkish side stated that this issue requires further discussion at the expert level. Turkey has an interest in strategic transport aircraft, but we cannot offer Ruslans. We need them ourselves, but we are not able to build new ones. Theoretically, we can finish building one "Mriya" if investors are interested
- Urusky admitted.
It should be recalled that in 2019 China became interested in completing the second An-225. Kiev reported that the case needed from $ 300 million to $ 400 million. After that, Beijing lost interest in this topic. Before the collapse of the USSR, aircraft manufacturers managed to manufacture the fuselage, airframe and tail of the aircraft. Some parts of the structure are inside the huge unfinished Mriya, which was needed to transport the Buran orbital spacecraft and Energia rocket blocks to the Baikonur cosmodrome in Kazakhstan. In the USSR, they wanted to build 10 such unique giants, which they also planned to use as launch platforms for space launches, but did not have time.