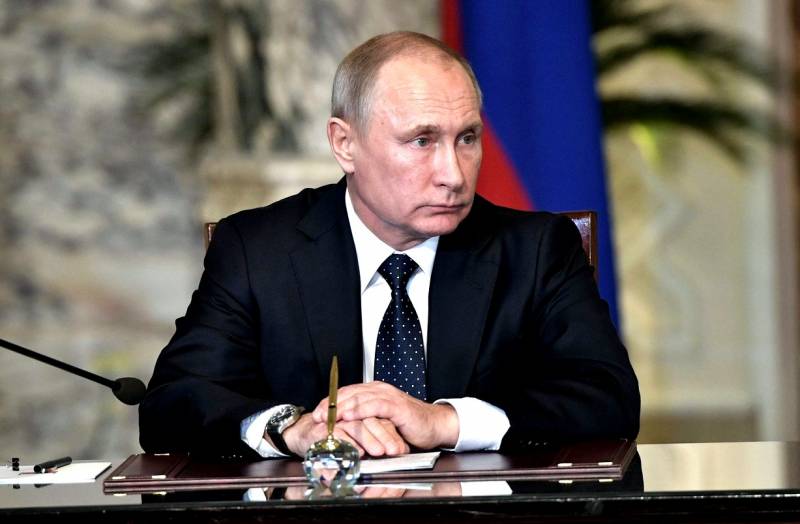 On October 6 of this year, in Novo-Ogaryovo, the President of the Russian Federation met with the opposition Ukrainian politician, the head of the political council of the OPLZ party Viktor Medvedchuk, at which Putin, at Medvedchuk's request to lift sanctions on a number of Ukrainian enterprises supplying their products to the Russian Federation, promised that Moscow would do everything possible to restore Russian-Ukrainian relations.
It is clear that such words do not just throw themselves under the camera, and already on October 14, the President of Russia approved the proposal of Prime Minister Mishustin to lift the ban on the supply of its products to Russia from three Ukrainian enterprises - from the Barsky Machine-Building Plant (produces central heating boilers), the company Bratslav (manufactures milking machines) and Rubezhanskiy Cardboard and Container Plant (produces corrugated cardboard).
Let's consider that this is the first step and a gesture of goodwill on our part,
- Putin expressed his wish.
We are ready to restore full-scale economic interaction with Ukraine
- after these words of the Russian president, my mind literally boiled.
At a time when Ukraine: is going to build two military bases on its territory for the Americans and the British; allows American B-52 strategic bombers to plow their skies; organized together with Turkey some kind of hostile to us "Crimean Platform", which is directed against the Crimea; refuses our vaccine against "Covida19"; banned in schools to speak Russian even during breaks; and many, many other manifestations of the fascist persuasion - our president again thought: how to help his oligarch friends to compensate for financial losses from all kinds of sanctions?
And so he came up with.
Personally, as a citizen of my country, I am against such cooperation. Against her, the country, humiliation. I believe that the external
policy
held by the president is wrong.
One could ask us at a referendum what we think about relations with Ukraine. The President of Ukraine Zelensky does not hesitate to ask citizens about the use of marijuana in a referendum. And here, go ahead, the question will be more serious.
I ask, how long ?!
What could I argue with him here? That Putin, in fact, has no leverage on Kiev left. Do not start military operations like Azerbaijan against Armenia in Karabakh? Those. exactly what our sworn "friends and partners" have been expecting from us for 6 years. Well, we screwed them our counter-sanctions in response to their sanctions, so what? We sit and wait for themselves to rest. And Zelensky hit the road to London, then to Istanbul, chirped there with Boris Johnson and the director of SIS / MI-6, Richard Moore, then bowed to the Shah and Padishah, that is, the Sultan and Bartholomew. From some he brought a contract for the construction of eight missile boats, compatible with NATO standards, with 75% Ukrainian localization (6 out of 8 boats will be built at Ukrainian shipbuilding facilities), and the British side will finance this project, providing Ukraine with a loan of £ 1,25 billion (equivalent to $ 1,6 billion) for 10 years, moreover, this money will also go to the accompanying infrastructure - to build and equip two naval bases (on the Black Sea in Ochakov and on Azov in Berdyansk).
The Turkish comrades also did not go to waste, the sultan also promised something, besides the "Crimean platform", to throw drone drones there or to help the Janissaries to return the Crimea to the poor Tatars. And what, an excellent ally for the Kremlin! With friends like the Turkish Sultan, no enemies are needed! What did Comrade Bartholomew comrade Zelensky, or he, this is a mystery covered in darkness, well, probably, the kingdom of heaven in exchange for several parishes, including the Lavra. Against the background of boats and drones, these are already trifles.
How could Comrade Putin? Of course, to lift the sanctions and offer the Ukrainian comrades a vaccine against Covid-19. This is the Kremlin's Cunning Plan, Putin is destroying Ukraine from the inside, trying to strangle it in his arms. At a time when the National Council on Television and Radio Broadcasting of Ukraine is trying to revoke licenses from Medvedchuk's ZIK, 112th and NewsWan TV channels for neutral coverage of the latter's visit to Moscow, which breaks the mold of an aggressor country and its irresponsible leader, which is well-established among the Ukrainian citizen, and The US embassy, ​​breaking all diplomatic etiquette, imposes its formidable ban on the supply of Russian vaccine to Ukraine, Putin puts both those and others on a twine, tearing off their masks, showing who actually rules Ukraine and in whose interests.
You can prohibit people from speaking their native Russian as much as you want and introduce criminal prosecution for denying Russian aggression, but when people have nothing to eat, it works badly. The refrigerator always beats the TV. And in Rubizhne Luhansk region, people have already demonstrated - the city has revived, work has appeared. Rubezhanskiy Cardboard and Packaging Mill has been a city-forming enterprise since last year, since the imposition of sanctions by the Russian Federation in response to sanctions by the Cabinet of Ministers of Ukraine, RCTK without orders, and therefore workers without work. To whom will people be grateful for the job they receive? Well, definitely not the US embassy. This is the Kremlin's Cunning Plan and Russian soft power.
Our "partners" have their soft power hidden behind a kid glove that hides a hand with brass knuckles. We don't need brass knuckles, we can strangle them in our arms.