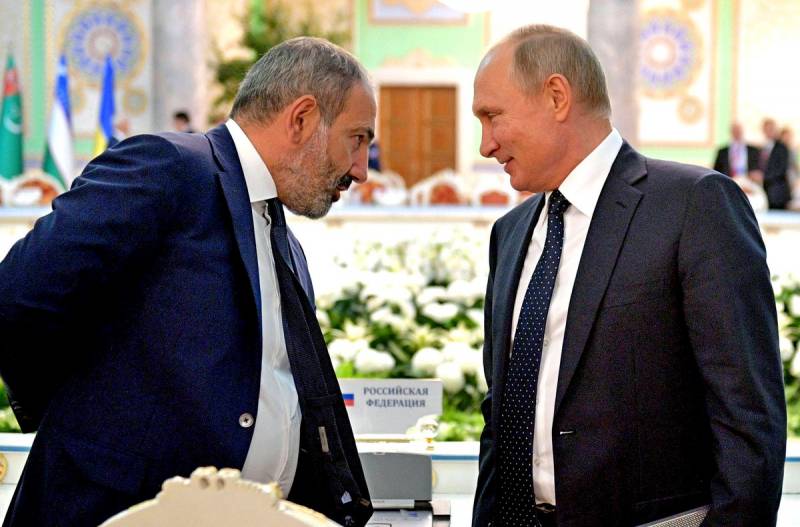 Armenia has developed an active foreign policy aimed at forcing Russia to enter the war against Azerbaijan on its side. In response, Moscow made a statement from a State Duma deputy about the possibility of carrying out a certain "landing operation". Who, where, how and why to drop, that is the question.
The war for Nagorno-Karabakh has been going on for several weeks, and events are not developing in the best way for Armenia. Prime Minister Nikol Pashinyan called on Armenians from all over the world to come out in defense of this unrecognized republic. Also, Yerevan is putting pressure on the Kremlin to send troops to help its ally in the CSTO and the EAEU. And in the State Duma, the head of the Committee for CIS Affairs and Eurasian Integration Konstantin Zatulin spoke on this matter, who allowed a "landing operation" to be carried out to protect the territory of Armenia:
By opening the air blockade. If necessary, we must clearly explain to Georgia that, if necessary, it should calmly accept that the necessary forces and means will be sent to Armenia through its airspace.
At the same time, the parliamentarian stressed that this must be done in order to prevent Turkey from establishing its new world in Transcaucasia, where it is the "arbiter of destinies". This statement is highly controversial.
It is not entirely clear how exactly Russia should overcome the air blockade of Armenia, with which it has no common border. The MP proposes to "clearly explain" something to Georgia about the spread of terrorism. At the same time, he forgets that this country is already a transit country for the militants crossing into our territory. And if, or rather, when Tbilisi refuses to provide an "air corridor" for the RF Ministry of Defense? What then, to punch it by force through Georgia? Through warring Azerbaijan or Turkey? Through Iran? And if Tehran also refuses, then what?
In fact, our only ally in Transcaucasia is in a blockade, and we cannot help him much. And what exactly should this help be? Konstantin Zatulin says that it is necessary to strengthen the Russian military presence in Armenia, but there is already a base of the Russian Defense Ministry there. Azerbaijan does not intend to seize Armenia, it is only interested in its own territory, which is occupied by the unrecognized republic of Nagorno-Karabakh. Unrecognized, by the way, by Yerevan itself. And what, according to Nikol Pashinyan's idea, Russian soldiers will have to defend Stepanakert? They somehow already tried, but nothing good came of it, so is it worth jumping on the old rake, again getting into the long-standing interethnic conflict?
Unfortunately, the corridor of decisions before the Kremlin is getting narrower. It is unprofitable for Russia to fight with Azerbaijan and Turkey for the sake of Nagorno-Karabakh. At the same time, we were shown in fact that, even with such a desire, we would have to ask permission from third countries, none of which is friendly. But the emphasized non-interference in the conflict on the side of Armenia will have its price. Prime Minister Pashinyan began to actively flirt with Western countries. He directly called French President Emmanuel Macron the most comfortable interlocutor:
I think there will be more telephone conversations with the French President and other leaders to discuss the current situation and developments.
"Others" is in relation to Russian President Vladimir Putin. Armenian President Armen Sarkissian went to Brussels to talk with the leaders of the European Union and NATO. Now Washington is directly involved in the negotiations between Baku and Yerevan. It should be remembered that there is a rather influential Armenian diaspora in the United States, which has its own lobby in the Congress. All this will have many long-term negative consequences.
Most likely, the acute stage of the armed conflict in Nagorno-Karabakh will end when Baku is able to take control of the "buffer belt" and both sides will deplete their resources. After that, the negotiation process will be led by a coalition of leading Western countries, relegating Moscow to secondary roles in it. Turkey will strengthen its influence on Azerbaijan and the entire region as a whole, while Russia, on the contrary, will seriously reduce it in Armenia, since official Yerevan and the Armenian people will be offended by the lack of military assistance at a difficult moment for themselves.