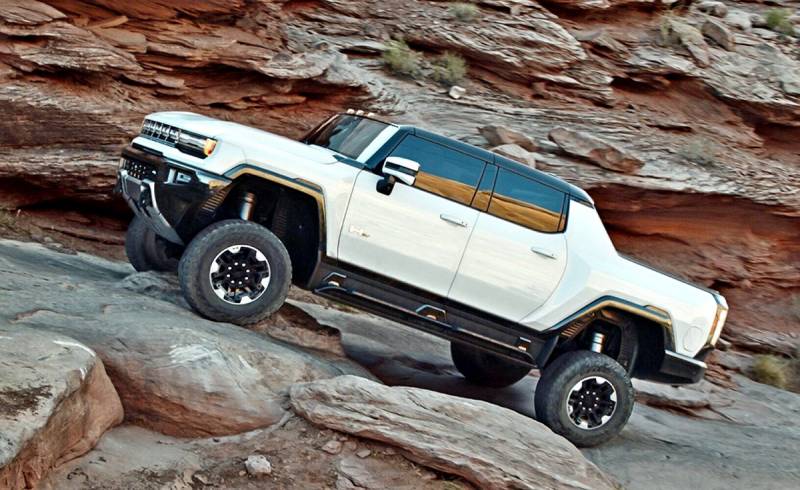 The legendary Hummer brand will be reborn as an electric super pickup. The car was created by GMC. The Hummer EV Edition 1 will go on sale next fall.
The debut version will be equipped with three electric power plants with a total capacity of 1000 horses. The torque will be 15592 Nm, and in order to accelerate to "hundreds", a massive car will take only 3 seconds.
The Ultium battery pack will allow the Hummer EV Edition 1 to cover 560 km. At the same time, a 10-minute recharge is enough for another 160 km. The cost of the first model of the electric "Hummer" will be from 112 US dollars.
It is worth noting that the eminent super pickup received a number of advanced
of technologies
... For example, the CrabWalk mode will allow the car to move diagonally, and on difficult sections of the road, the body can be raised to the maximum thanks to the air suspension adjustable via the Extract Mode option. It also features SuperCruise autopilot mode, digital instrument cluster, 14-speaker Bose audio system and UltraVision camera system with 18 different angles.
According to the statement of the developers, the line of electric pickups will be replenished with several more models. So, in 2022, the three-engine Hummer EV 3X with a capacity of 800 horses and 480 kilometers on a single charge will go on sale. Its price will be $ 99.
The Hummer EV 2X model with two motors, a range of up to 480 km and a power of 625 hp, will be released in 2023 and will cost $ 89995. Finally, the Hummer EV 2 with the same number of engines and similar power will be available in 2024. Its mileage, compared to the previous model, will decrease by 80 km, and the cost will be $ 79995.