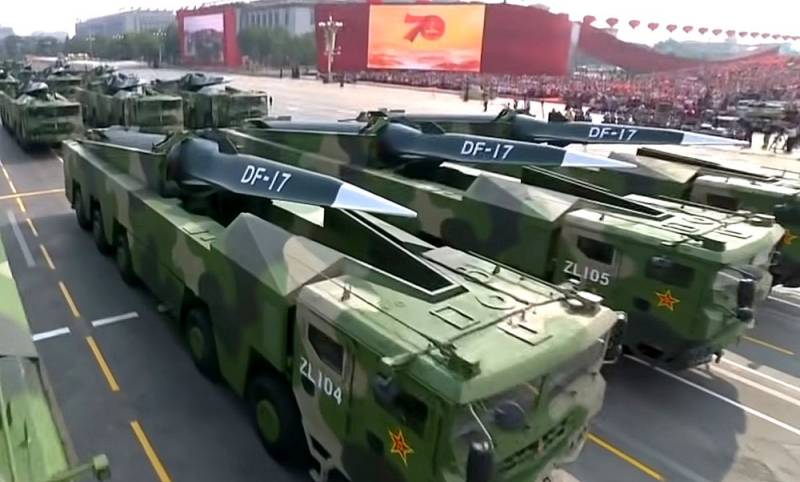 The PLA prepares to invade Taiwan. The preparations for the military operation are indicated by the activities carried out by the Chinese military, the oldest English-language newspaper South China Morning Post from Hong Kong writes.
Beijing is stepping up its militarization of China's southeastern coast, and the PLA is continuing a series of exercises aimed at maintaining pressure on Taiwan. At the same time, the missile forces began to actively re-equip with the latest DF-17 missiles. They should replace the outdated DF-11 and DF-15. Ballistic missiles DF-17, equipped with a hypersonic unit (warhead), have a maximum flight range of 2,5 thousand km. They were first shown in 2019 at the parade on the occasion of the 70th anniversary of the founding of the PRC.
China regards Taiwan as a breakaway province and has pledged to return it by force if necessary. Recently, relations between Beijing and Taipei have deteriorated significantly due to Taiwan's rapprochement with the United States.
According to Andrei Chang, editor-in-chief of Canada's Kanwa Defense Review, satellite images show that the PLA has seriously expanded its marines and missile bases in Fujian and Guangdong provinces.
This indicates that the PLA is stepping up preparations for war against Taiwan.
Chang is sure.
Chang clarified that the PLA has also deployed S-400 air defense systems, acquired from Russia, and is deploying J-20 stealth fighters to the coast. In total, 13 brigades are concentrated in the Taiwan direction, and the Marine Corps headquarters, located in Chaozhou (Guangdong province), will play a key role in the attack.
At the same time, retired Major General Wang Zaixi called the exercises conducted by the PLA "unprecedented."
Until now, the possibility of peaceful reunification has been slim. Military exercises with live fire showed that there is only one step to real fighting
- Zaixi told the Chinese online edition Guancha.