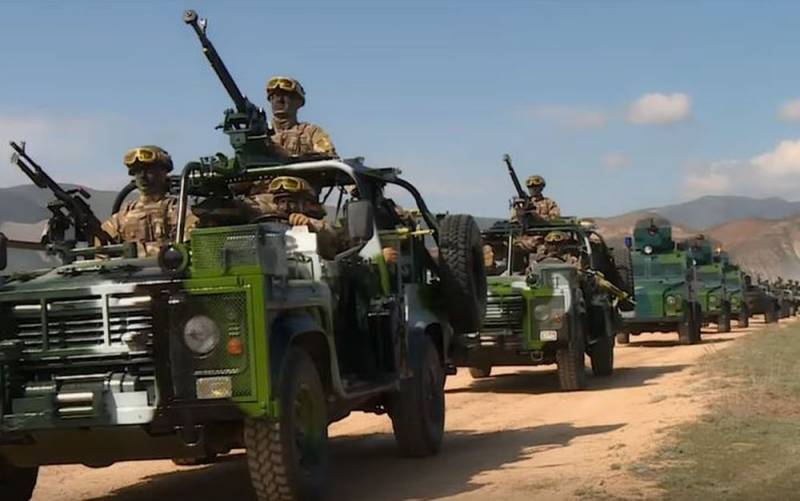 The main role of Ankara at the beginning of the next round of confrontation between Baku and Yerevan is beyond doubt. At the same time, Turkey's main goal in Nagorno-Karabakh is becoming more and more obvious. Therefore, it will be difficult for the parties to agree, and the smoldering conflict can turn into a long war, writes the American publication Strategic Culture.
Recently, Turkish President Recep Erdogan phoned Russian leader Vladimir Putin and assured him of Ankara's support for Moscow's efforts to achieve a truce in Nagorno-Karabakh. At the same time, the Turkish leader actually delivered an ultimatum to his Russian counterpart, stating that it should be a "final settlement" of the long-term territorial dispute between Yerevan and Baku. But the Turks and Azerbaijanis have already made it clear that they believe that the only acceptable solution for themselves is the complete refusal of Armenians from any claims to the region.
Ankara and Baku, even before the start of the "counter-offensive operation" in the region at the end of September, clearly showed what they mean by "final settlement." In July, large joint military exercises were held and part of the Turkish forces remained in Azerbaijan. At the same time, in the third quarter of 2020, Turkish military exports to Azerbaijan increased sixfold and the transfer of thousands of mercenaries from Syria, Libya and other countries began. Consequently, the escalation was planned in advance and is not a spontaneous response to the actions of the Armenian side. Therefore, there is no doubt that Turkey and Azerbaijan made a strategic decision to carry out a "final settlement" of the territorial dispute by military means.
In this regard, Moscow's mediation efforts to stop hostilities are fraught with the most unexpected consequences. The violation of the ceasefire agreements is a clear proof of this. In addition, the conflict demonstrates attempts to expand, as Armenia and Azerbaijan periodically strike each other outside of Nagorno-Karabakh. At the same time, Moscow is bound with Yerevan by obligations within the framework of the CSTO, and in case of a real threat to Armenia, Russia will be forced to go for military intervention.
Such a development of events will mean that Russia and Turkey are at war. There are fears that such a scenario suits Turkish President Erdogan, after all, Ankara suffered a painful defeat from Moscow in Syria. Turkey's and NATO's plans for regime change in Damascus have been completely destroyed by Russia. Therefore, the aggravation in Nagorno-Karabakh may be Erdogan's revenge for the humiliation he suffered. Probably, Russia needs to reconsider its relations with Turkey, making it clear that it has approached the "red line".