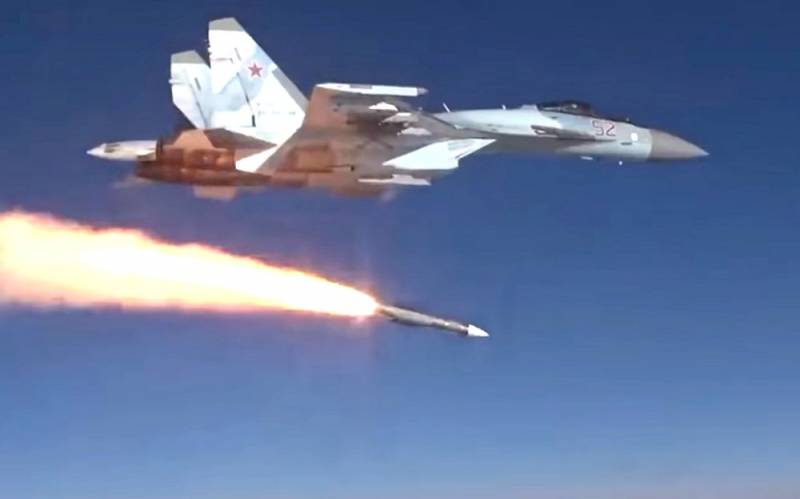 On the eve of the RF Ministry of Defense published a video of test launches of the new R-37M air-launched anti-aircraft missile. Earlier it was believed that Russia would not be able to restore the production of these ammunition soon, since part of the electronics for the R-37 ("Strela" according to NATO classification) was produced in Ukraine. However, as recent tests have shown, we not only managed to localize the missile release, but also significantly improve its performance.
Thus, the new R-37M provides confident defeat of all types of targets, including heavy attack UAVs, in the range from 15 to 25000 meters and at a distance of 200 km. In addition, the modernized version of the ammunition has become 100 kg lighter than its predecessor, much shorter and smaller in diameter. This allows it to be used with almost anything, including the Su-30, Su-35 and Su-57.
Today, theoretically, our R-37M has only two competitors: the American AIM-120 AMRAAM and AIM-54 Phoenix. The latter, however, has already been removed from service due to the demonstrated low efficiency in the field. However, the replacement "in the face" of the AIM-120 AMRAAM, which promises a 98% chance of destruction, has not yet destroyed a single target at the maximum range (up to 120 km).
However, back to the R-37M. Maneuverability and compactness are not the only advantages of our rocket. The modernized "Arrow" can be safely called "invisible", from which it is impossible to dodge.
On the cruising section, the rocket moves in a passive mode, which prevents most of the detection means from detecting it. Adjustments are made from ground, surface or air command centers. However, the R-37M can do without them.
Upon reaching a predetermined point, the ammunition turns on its own active homing head and accelerates to a hypersonic speed of Mach 6, leaving no chance for the target even with the use of electronic warfare.