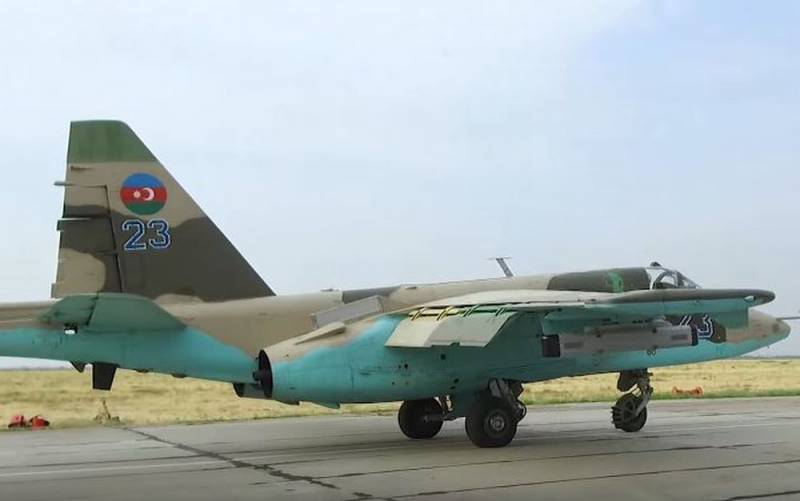 The struggle between Armenia and Azerbaijan for Nagorno-Karabakh is being waged not only on the real front line, where they shoot, it also takes place in information "trenches". Since the beginning of the new phase of the conflict, the parties have managed to disseminate a wide variety of videos and messages on the Internet, demonstrating their achievements, conducting propaganda, accusing the enemy, exposing his activities and demoralizing. Sometimes the parties do not disdain even fakes.
In recent days, Yerevan and Baku have taken a great interest in aviation and began to actively shoot down "virtual" Su-25 attack aircraft of each other. For example, the Ministry of Defense of Armenia
reported
that in the skies over Nagorno-Karabakh at least three Su-25s of the Azerbaijani Air Force were destroyed. At the same time, the Armenian side did not provide any evidence whatsoever. Naturally, Baku easily denied this information.
On October 18, 2020, the Ministry of Defense of Azerbaijan reported that another Su-25 of the Armenian Air Force was shot down by the country's air defense forces, which tried to inflict an air strike on the positions of the Azerbaijani army in the Jebrail direction. At the same time, no convincing evidence was provided either, although the servicemen shoot a video even while on the front line. Therefore, it is not surprising that from Yerevan they immediately stated that this information does not correspond to reality.
Note that at 00:00 on October 18, the second humanitarian truce began in Nagorno-Karabakh between Armenians and Azerbaijanis. However, it was thwarted even faster than the first one, announced on October 10, after hours of negotiations between the foreign ministers of Azerbaijan, Armenia and Russia in Moscow.