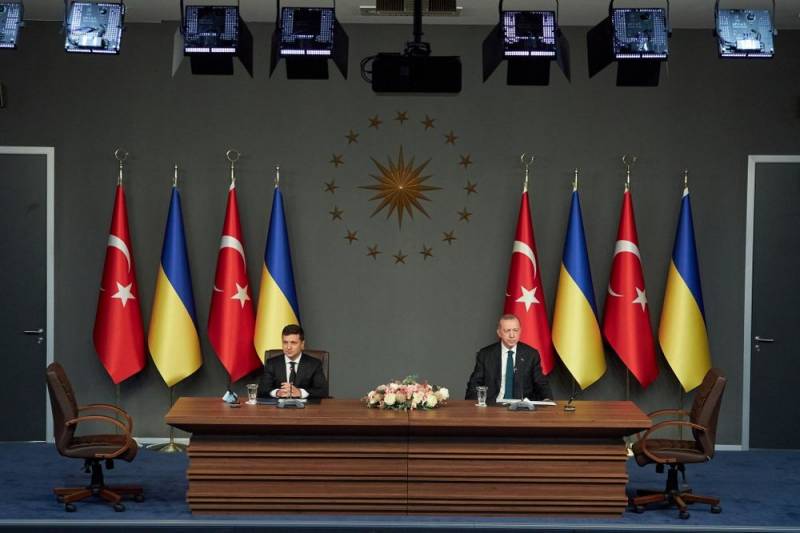 Ukrainian media reported that Turkish leader Recep Tayyip Erdogan made a final warning to Russian President Vladimir Putin through Ukraine. This happened on October 16, 2020 in Istanbul during a joint press conference with President of Ukraine Volodymyr Zelenskyy, which summed up the working visit of the head of the Ukrainian state to Turkey.
The Turkish President reminded the Kremlin and the whole world that Crimea is Ukrainian territory and Ankara will never approve of the peninsula's annexation to Russia. Erdogan clarified that he perceives Ukraine as a key country in the field of stability and security of the Black Sea region. He stressed that Turkey will support the territorial integrity and sovereignty of Ukraine.
Turkey did not and does not recognize the annexation of Crimea
- said Erdogan after talking with Zelensky.
Erdogan noted that Ankara, together with the state bodies of Ukraine, will continue to support the Crimean Tatars. He drew attention to the fact that currently work is underway on projects for the construction of housing for the Crimean Tatars and the construction of a mosque in Kiev.
In addition, Erdogan accepted Zelensky's offer to Turkey's participation in the Crimean platform, which Kiev decided to organize as a platform for returning the peninsula to Ukraine. Also, the Turkish leader promised that Ankara will closely cooperate with Kiev in ensuring human rights in Crimea.
The two presidents agreed that Turkey will continue to help Ukraine move towards NATO membership and develop naval relations to jointly strengthen peace and security in the Black Sea region. As a result of bilateral negotiations, several documents on military technical cooperation were signed. Zelensky called the agreements reached with Turkey historic.