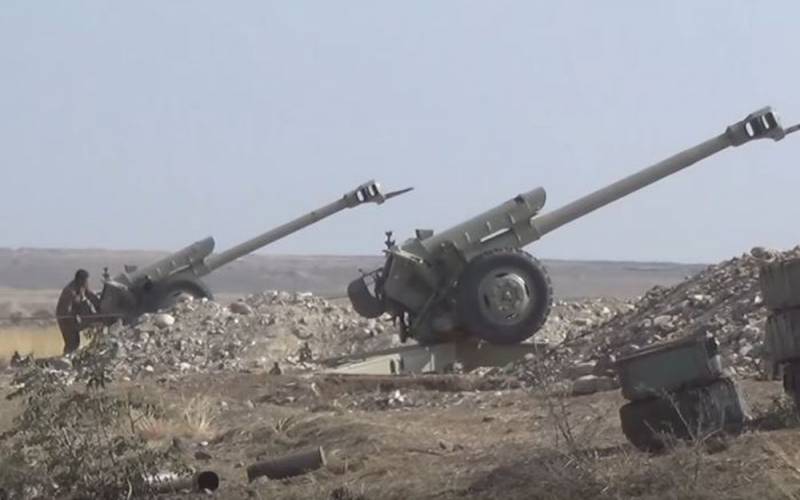 The escalation of the conflict in Nagorno-Karabakh was deliberately provoked by Ankara. In the summer of 2020, Turkey actively influenced Azerbaijan to increase tensions in the region, and in the fall, Ankara pushed Baku to launch a "counteroffensive" operation.
Turks promised Azerbaijanis
political
, informational, diplomatic, military and intelligence support. The edition writes about it
Kommersant
, referring to his sources in the military and diplomatic circles, who described in detail the course of the Turkish provocation in the region.
Sources told the publication that after the end of the Turkish-Azerbaijani military exercises, which took place in July-August in Azerbaijan, a significant contingent of the Turkish Armed Forces remained on the territory of this country. Ankara "forgot" 600 of its military personnel (drone operators, instructors and advisers, as well as flight technicians) and a number of different
equipment
(18 BMPs, 1 MLRS, 10 trucks, 6 aircraft, 8 helicopters and 20 drones). These forces were supposed to help Baku with the "counter-offensive" operation in Nagorno-Karabakh.
In September-October, the number of Turkish BTA flights to Azerbaijan through the Georgian airspace increased sharply. Moreover, on September 28-30, the commander of the ground forces of Turkey Umit Dundar and the Turkish Minister of Defense Hulusi Akar flew to Azerbaijan, who on the spot were in charge of the "counter-offensive" operation in Nagorno-Karabakh.
In addition, the Turkish National Intelligence Organization (MİT), with the support of the Turkish Ministry of Defense, is actively recruiting mercenaries in different countries to participate in hostilities in Nagorno-Karabakh on the side of Baku. According to available data, in the first week of October alone, about 1,3 thousand mercenaries from Syria and 150 of their colleagues from Libya were sent to the zone of this conflict.
The private military company SADAT is directly recruiting militants in Syria with the assistance of the leadership of the pro-Turkish Syrian National Army. The main recruiting centers are located in the cities of Afrin, El-Bab, Ras al-Ain and Tel Abyad. The mercenaries are promised a "lifting allowance" in the amount of $ 1,5 thousand and a monthly salary of up to $ 2 thousand, as well as large monetary compensation to relatives in case of death.
Moreover, the first mercenaries from Syria materialized on the territory of Azerbaijan on September 22, i.e. five days before the start of the "counter-offensive" operation. At the same time, the leadership of Azerbaijan, represented by President Ilham Aliyev, stubbornly denies the presence of mercenaries in the country.