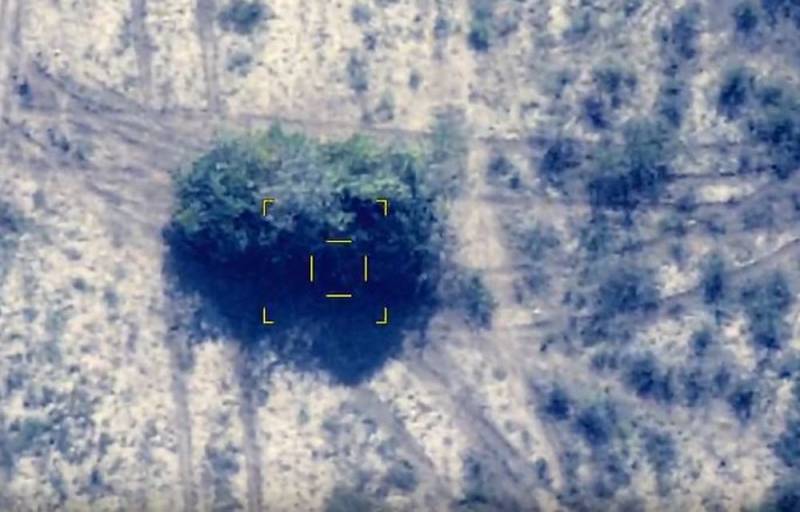 On October 17, 2020, the Ministry of Defense of Azerbaijan published another video showing the destruction of the Armenian military
equipment
in Nagorno-Karabakh using drone strikes. At the same time, Internet users drew attention to certain oddities of camouflaging military equipment used by the Armenian side in this conflict.
The footage clearly shows that the Armenian technique was disguised by cut tree branches. Moreover, the equipment is not located in a forest belt, but stands separately and resembles a bush located in the middle of a clearly visible wheel track. Perhaps such a disguise is not striking from the outside. However, from a height of Azerbaijani drones flying in the sky, the entire unmasking effect is visible at a glance.
Note that the beginning of the mass use of drones makes its own adjustments to the equipment of positions. Therefore, this factor must be taken into account, because camouflage is a set of measures aimed at misleading the enemy. Camouflage contributes to the surprise of troops' actions, the preservation of their combat readiness and increased survivability. In this case, we observe the completely opposite phenomenon.
It should be recalled that on this day the Ministry of Defense of Azerbaijan
has spread
a whole series of videos dedicated to the effective use of drones in Nagorno-Karabakh. This suggests that the Armenian troops may not have the means to effectively counter drones. If this is the case, then the "counter-offensive" operation of the Azerbaijani army will not stop until the mentioned means appear in sufficient quantities from the Armenians or until the front line is on the immediate border of Armenia.