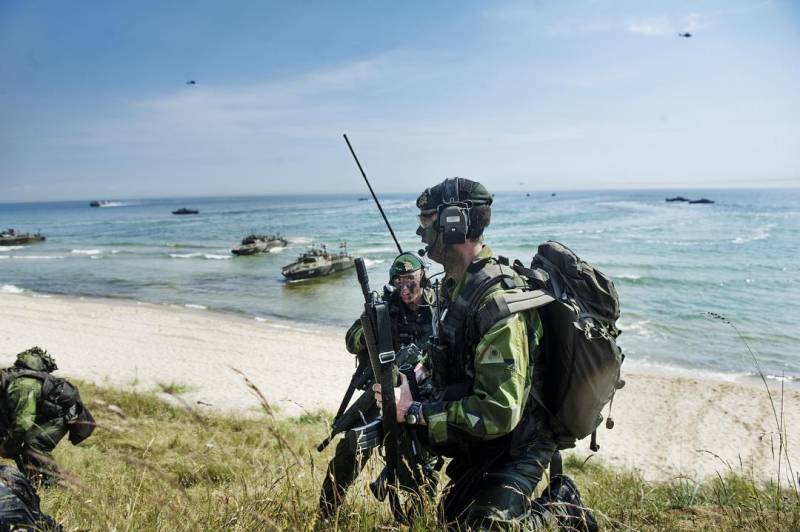 In Sweden, they again started talking about the "Russian threat" and hoped for help from the United States. Anyway, such a conclusion can be drawn from a new article published on the website of the Swedish morning newspaper Smålandsposten.
The new material notes that, according to the government, the security situation, both in the immediate vicinity of the Scandinavian kingdom and in Europe as a whole, continues to deteriorate. Therefore, according to Defense Minister Peter Hultkvist, Stockholm needs to strengthen its defenses.
According to the official, this is largely due to the actions of the Russian Federation. The publication quotes Mr. Hultqvist as saying that we must not forget how Russia "behaved" for the last 15 years, starting with the "aggression" against Georgia.
Smålandsposten also recalls that when three years ago the Swedish armed forces started talking about the fact that armed aggression from a foreign power could not be ruled out, a large
political
scandal. The wording was later softened.
Now the authorities again do not exclude that "military means or threats of using them can be used against Sweden."
In addition, if an armed conflict flares up in the immediate vicinity, the Scandinavian country will inevitably suffer. The government bases its arguments on the fact that Sweden and its environs, including the maritime regions, are part of a single "military-geographic whole".
It is also argued that military activity around Sweden has only increased. And not only Russia is to blame for this, although the Swedes singled it out especially, since "the deterioration of the security situation in the immediate vicinity [of the kingdom] is a consequence of the actions of the Russian Federation."
I think the best thing we can do is to follow our existing strategy - to build up military capabilities at the national level, while deepening cooperation with other countries along the way.

- said the head of the country's defense department Peter Hultqvist.
Besides the EU, the most important for the Swedes is cooperation with Finland, other Nordic countries, as well as NATO and the United States. Although in the new draft law on military priorities, the government notes that the implementation of American foreign policy is sometimes "marked by unpredictability," Peter Hultqvist relies heavily on the Americans.
The United States is a very important partner for us, and I can only say that everything that we agreed on over these six years they have fulfilled

- quotes the publication of the words of the Minister of Defense.