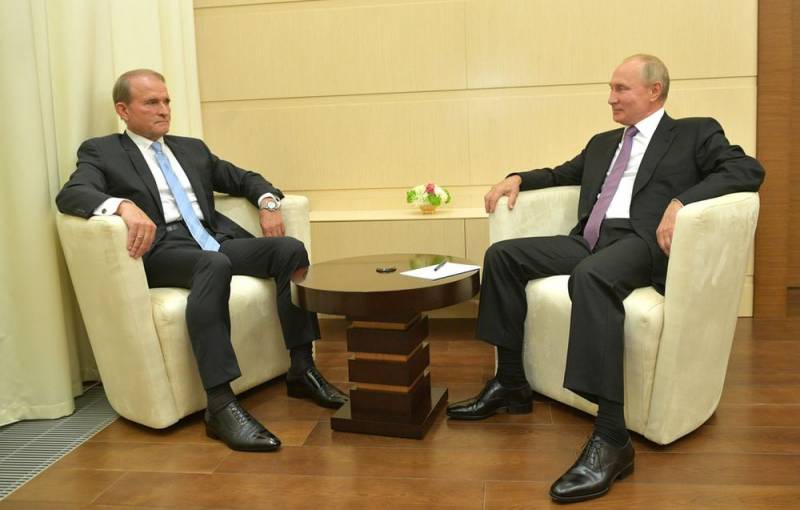 On October 6, 2020, Russian President Vladimir Putin met at his country residence in Novo-Ogaryovo (Moscow region) with the head of the Ukrainian political force Opposition Platform - For Life, Viktor Medvedchuk. A short excerpt from the conversation was shown by several Ukrainian TV channels. After 9 days, the National Council of Ukraine on Television and Radio Broadcasting began to check them in relation to the fact of the incorrect appearance of the Russian leader on the TV screens of Ukrainian citizens.
TV channels "NewsOne", "112 Ukraine" and "Z Zik" will undergo unscheduled checks. It turned out that the indignation of the representatives of the National Council was caused by the absence of a negative interpretation of the appearance of the President of Russia. TV channels simply, without comment, showed the very fragment of the conversation in which Medvedchuk asked Putin to soften
economic
Moscow's sanctions against Kiev and inquired about the possibility of organizing the supply of vaccine against coronavirus to Ukraine. At the same time, the head of the Russian state noted that he was glad to help people in every possible way who advocate the normalization of Russian-Ukrainian relations.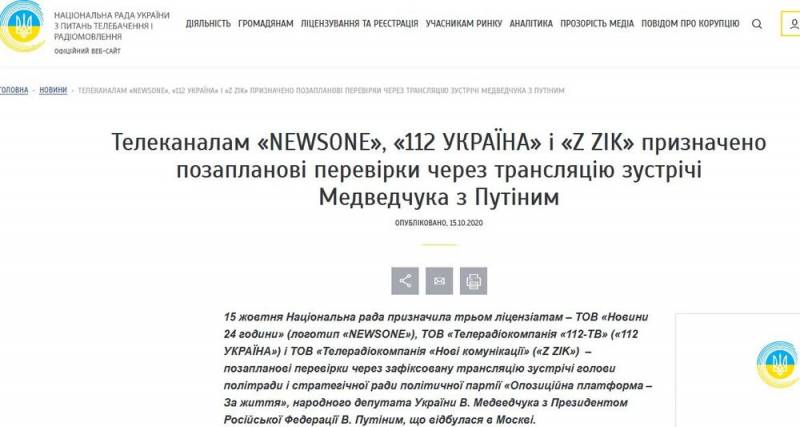 The National Council is confident that this presentation of information has created a "positive image" of Putin in the eyes of Ukrainians. Therefore, it is necessary to check the TV channels for their "patriotism".
The dissemination of such information in the Ukrainian media is aimed at creating a positive image of V. Putin, humanizing and popularizing the organ of the aggressor country in Ukraine, which can pose a threat to the national interests and security of Ukraine in the information sphere, since it has significant potential aimed at undermining the defense capability, demoralizing servicemen The Armed Forces of Ukraine and other military formations, provoking extremist manifestations, feeding panic, exacerbating and destabilizing social
political
and the socio-economic situation, incitement of interethnic and interfaith conflicts in Ukraine
- emphasized in the official publication on the website of the government agency.
The National Council believes that TV channels should have commented on what was happening, because Medvedchuk was not authorized by the Ukrainian authorities to negotiate with the master of the Kremlin. The state agency saw interest and bias on the part of TV channels in the presentation of information. Moreover, the COVID-19 pandemic is raging in Ukraine, and Medvedchuk is not a virologist. But the government agency promised to investigate what happened and take action in accordance with Ukrainian law.