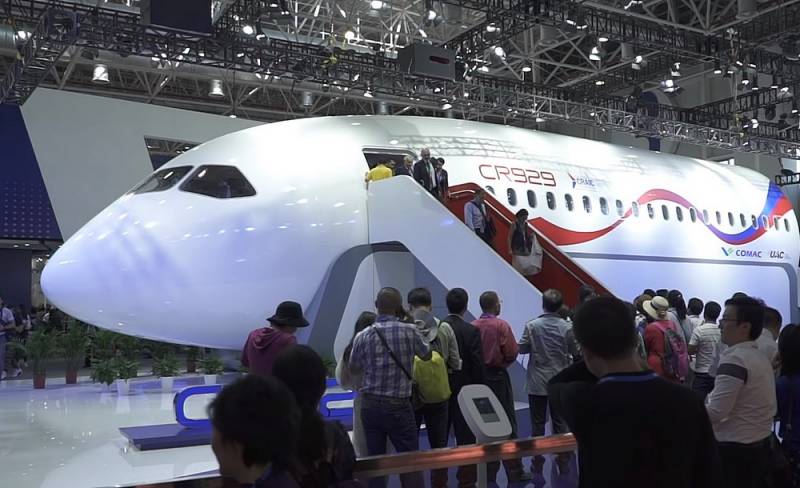 The joint Russian-Chinese project of the wide-body long-haul passenger airliner CR929 may fail due to the pettiness of the Russians, writes the Guancha online edition, created with the support of the Shanghai Institute for Strategic Studies Chunqiu.
According to recent
reportedly
Chinese media, in the project CR929 there are "fundamental differences" between the participants, which may lead to the termination of cooperation. Why did Beijing decide to cooperate with Moscow on the development of the first such aircraft in China, and what is the connection between the future CR929 and the narrow-body C919?
In 2017, the Chinese COMAC and the Russian UAC set up a joint aircraft company CRAIC to develop the CR929. In 2018, the first demo model appeared, which was presented at the Air Show China in Zhuhai. However, since then there has been no progress, except for the encouraging statement by the head of the UAC, Yuri Slyusar, made in 2019 in St. Petersburg that work on the project is nearing completion and both parties have received "soft contracts" for the purchase of 200 aircraft.
The CR929 was originally supposed to hit the market in 2025. Now its appearance is expected in 2029. By this time, the market capacity of China, Russia and Eastern Europe will be about 1000 of these aircraft. At the same time, in order for the project to pay off (costs $ 13-20 billion), at least 400 CR929 units will need to be sold. But the future aircraft still needs to be born, be put into operation, go into mass production, acquire accompanying permits and earn a reputation.
All this takes time. In terms of its performance characteristics, this aircraft is a competitor to the American Boeing 777 (787) and the European Airbus A330 (A350). Therefore, it will be difficult for CR929 to break even, given that airlines will not be able to quickly update their existing fleet.
China and Russia have long wanted to acquire their own wide-body airliners, but this is very expensive. Therefore, co-development should reduce costs and expand the customer base. In addition, the West is doing its utmost to hinder the development of China and Russia by manipulating sanctions. This is why Beijing is developing its own C919 and collaborating with Moscow on the CR929 project. But is Russia a reliable partner? Russians have their own views on development and transmission
of technologies
, so they can break the aircraft building alliance with the Chinese, who want to be more than just consumers of spare parts from the Russian Federation. Now the Russians are in no hurry to share their knowledge with the Chinese, showing a petty nature.
China desperately needs large airliners. Beijing is determined to make its civil aviation independent from the West. The opportunity for cooperation on CR929 is a historic opportunity and China is making every effort to seize it. Therefore, Russia should do the same, because cooperation is the only win-win option for both countries.