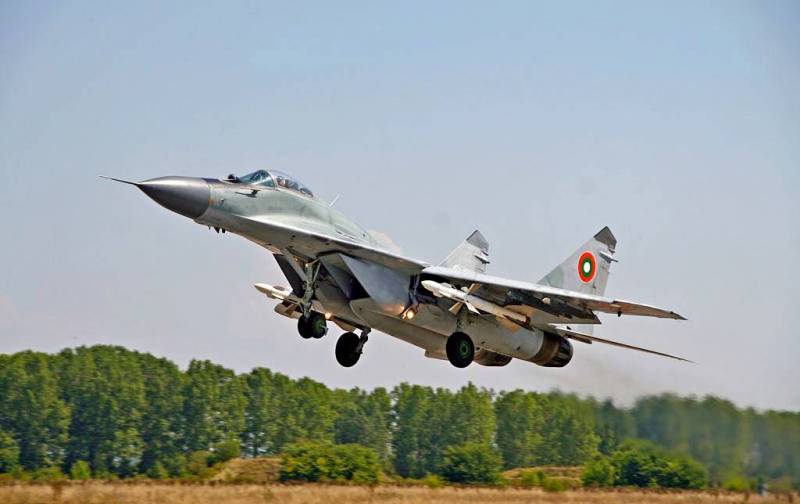 The Bulgarian Ministry of Defense has fined the Russian corporation RSK MiG more than 185 thousand euros for delaying the repair of old Soviet MiG-29 fighters, which Bulgaria relies on to protect its airspace. This is reported by the Mediapool portal.
Boyko Borisov's government signed a framework agreement with the Russian Federation worth more than 40 million euros, according to which several contracts were concluded with Moscow - they should be fully completed by mid-2021. So far Russia has "got" on a large fine for the delay of only one contract, but the terms of work have been violated for three more of them.
The Russians have already paid a fine at the request of the Bulgarian Ministry of Defense for aircraft that were not repaired on time. In correspondence with the Bulgarian military department, the RSK calls "force majeure" the main reason for the delay in fulfilling contracts.
The initial idea of ​​the head of the Bulgarian Ministry of Defense, Krasimir Karakachanov, was to repair 15 MiGs in service with the country's air force. However, later it turned out that the Bulgarian military budget could not provide for the repair of more than 8 vehicles.
For the period 2006-2020 Bulgaria has signed a contract for
technical
maintenance of the MiG-29 for a total amount of 140 million euros. Although Sofia purchased 8 new F-16 Block 70 fighters from the United States and Lockheed Martin for more than 1 billion euros (yes, the F-16 Block 70 turned out to be more expensive than the F-35), the use of MiGs for Bulgarians does not yet have a clear alternative.