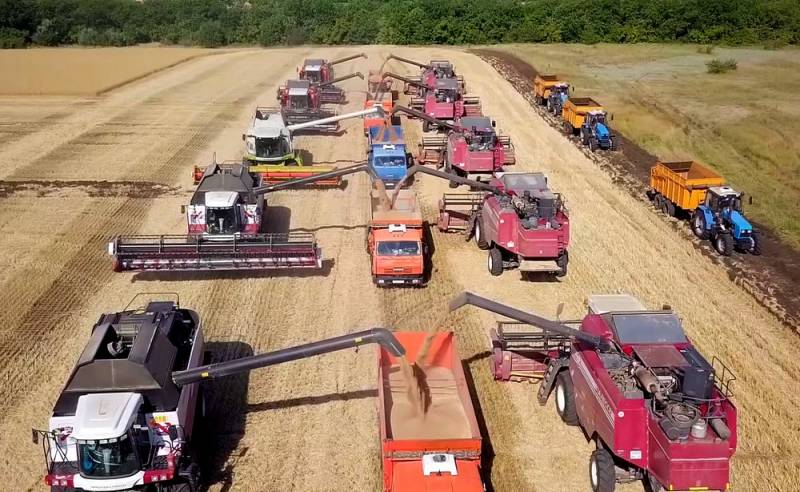 This year Russia will harvest one of the highest harvests in its history. However, instead of swimming in cheap grain, Russians may face a rapid rise in prices for bread, pasta, meat and our main socially significant product - vodka. How did this become possible, let's try to figure it out.
The all-time grain harvest record was set three years ago when the total harvest was 135,539 million tons, of which 86,003 million tons came from wheat. Not much less will be collected this year, about 125 million tons are expected. It would seem that the surplus of grain should ensure low prices within the country and give a good income from the export of everything that comes from above. But in practice it turns out differently.
The analytical center "Sovekon" gives the following figures:
Prices for Russian wheat rose to record levels. At the end of last week, the average prices for third-class wheat have strengthened by 325 rubles to 14 rubles per tonne (excluding VAT), the fourth class has risen by 650 rubles to 300 rubles per ton.
The growth was 2,2% and 2,1%, respectively, breaking the previous "covid" records. Wheat has never been so expensive inside Russia. This means an imminent rise in food prices: bread, pasta and livestock products, where grain feeds make up the bulk of the cost of poultry and livestock meat. But how does this happen with our record harvest?
At first
, it is extremely profitable for producers to supply grain precisely abroad, where very attractive prices have formed. There is already talk of a kind of "cartel agreement".
Secondly
, it should be borne in mind that all this is happening against the backdrop of a sharp collapse of the ruble against the dollar and euro. It was here that the weak side of the "agrarian revolution" in Russia, about which we in detail
told
earlier. Domestic agricultural producers continue to rely heavily on imported seeds, herbicides and
equipment
which they are forced to buy abroad for foreign currency. Due to the rapid devaluation of the ruble, their costs have increased dramatically. In the best case, they will go to zero, in the worst case, they will become unprofitable. It is quite obvious that this can shift to the right the timing of Russia's transformation into a great agrarian power. Coincidence?
Thirdly
so far, everything is happening without active intervention from the state. What is the FAS of Igor Artemyev doing now, which should fight cartel collusion? Where is Nabiullina, who is responsible for the exchange rate of the national currency, looking? What about the complex import substitution, which the government of Mikhail Mishustin should deal with?
As a result, instead of rejoicing in the successes of domestic farmers, "macaroshki with a trigger" and a glass of vodka on the table may soon become a real revelry for many Russians. Already now, the press is expressing the idea of ​​the possibility of introducing food ration cards for socially unprotected segments of the population. If appropriate measures are not taken, then it will be necessary.