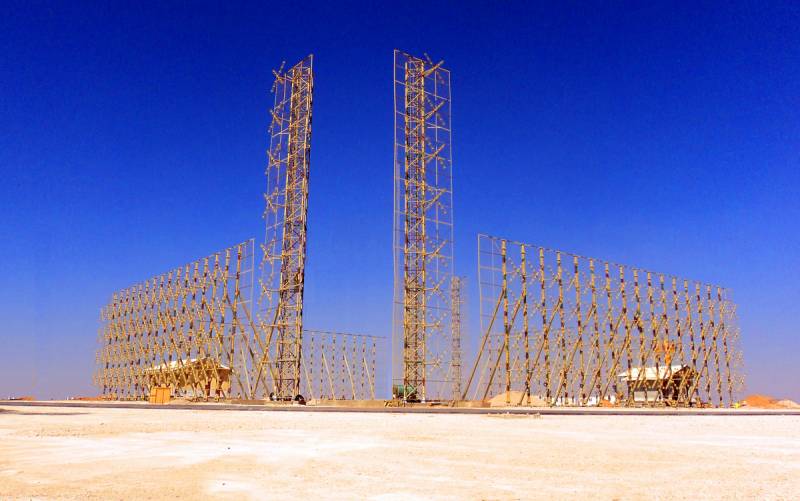 The day before, footage appeared on the network, based on which it can be concluded that the Russian radar "Resonance-NE" (an export version of the "Resonance-N" complex) has begun combat duty in Egypt. This meter-range radar system is capable of effectively detecting ballistic warheads, cruise and hypersonic missiles, as well as enemy drones and aircraft, including stealth aircraft.
The aforementioned radar complex has reliably "covered" the airspace over Jordan, Israel, South Syria and the eastern Mediterranean. "Resonance-NE" is capable of simultaneously issuing target designation for 500 objects, and its detection range is about 1100 km.
In fact, today no one except Russia has such a fast and reliable radar system as Resonance-N. The system was originally designed to work in the most severe conditions. So, the RK is capable of functioning at temperatures from -70 to +70 degrees Celsius, wind speeds up to 50 m / s and effectively withstand electronic warfare. At the same time "Resonance-N" is completely mobile. It occupies a square of 100x100 meters and can be deployed in a matter of hours by one team.
Now the radio technical troops of the 45th Army of the Air Force and Air Defense of the Northern Fleet have three such complexes. Two are already on alert, and the third, since last year, is being tested in the Novaya Zemlya archipelago.
From the beginning of this year, supplies of the export version of "Resonance-NE" to Egypt began. Iran and Syria are next.
Given the capabilities of the complex, the deployment of this radar in the aforementioned countries will actually take control of the entire airspace over the Middle East. In turn, this will make it possible not only to "cover" the Syrian sky from the Israeli Air Force, but also to test the complex in real combat conditions in order to create even more effective modifications and reliably defend already their country.