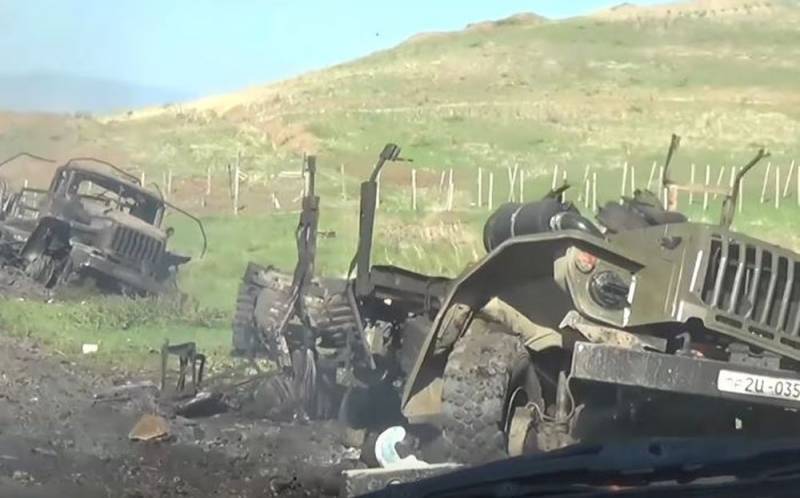 The announcement of a ceasefire had virtually no effect on the situation in Nagorno-Karabakh. On October 11, 2020, the Ministry of Defense of Azerbaijan published a new video from the village of Horadiz, occupied by the Azerbaijani military, in the Fizuli region and showed the burned
machinery
the adversary.
The caption under the video informs that the indicated settlement has been liberated from the occupation. The footage shows that on the side of the road, at the conditional entrance to the village, there are several burnt out or still burning out several tanks and a dozen trucks of the Armenian army. There can be no doubt that these are Armenian vehicles, since there are accompanying identification marks, including license plates on trucks.
As for the village itself, little has remained of it, judging by this video. The frames show a horrifying picture in terms of the degree of destruction. Mostly the walls of houses without roofs flash. Some houses were destroyed to the foundations. It is not known whether this was the result of a new military campaign or is an echo of the war 30 years ago.
During the Soviet era, this settlement was not part of the Nagorno-Karabakh Autonomous Region. At the same time, in January 1994, there were fierce battles for him, because this village is located at the crossroads of several roads. The fighting entered the modern history under the name "Horadiz operation", which became part of the counter-offensive of Azerbaijani troops, which began in December 1993.
A few days before this publication, the Ministry of Defense of Azerbaijan
has spread
another video. The footage showed the tanks abandoned by the Armenian military during the retreat. The action on the video takes place in the mentioned village of Horadiz. But on his footage, relatively whole and inhabited houses flicker.