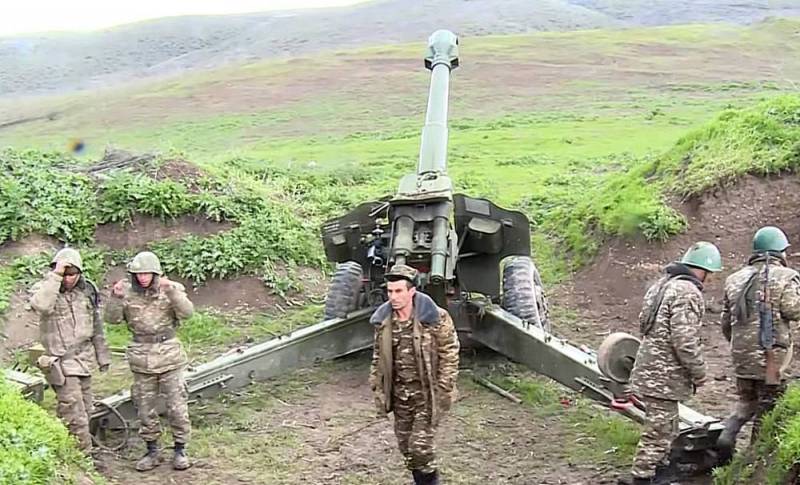 Despite earlier
announced
ceasefire, the situation in Nagorno-Karabakh remains difficult. The most tense situation is in the southern sector of the Armenian-Azerbaijani front near the town of Hadrut.
At the scene is the Russian journalist Semyon Pegov, the organizer of the WarGonzo project, who published several reports. In the first video, the Russian informed the public that the situation in Hadrut was indeed difficult. But at the time of the statement by the President of Azerbaijan Ilham Aliyev about the capture of the city under the control of Baku, his words did not correspond to reality.
When it was proved that this was complete disinformation, the Azerbaijani side attempted a breakthrough and a couple of hundred (according to local volunteers' estimates) militants, most likely foreigners, broke into the city.
- noted Pegov.
He specified that the shelling of the city from the side of the Azerbaijani Armed Forces stopped immediately as soon as the mentioned detachment broke through to Hadrut. At the same time, the Armenian militias reported that they had begun to destroy the breakthrough formation.
In the second video, Pegov said that he was several kilometers from Hadrut and was talking with Armenian volunteers. According to local residents, intense fighting is taking place in the city.
One of the local residents was at one of the skyscrapers and watched the passage of this sabotage group. There were about 200 of them. They were in black uniforms. There is every reason to believe that it was the elite Turkish special forces. According to the most recent reports, the main task of the special forces was to plant the Azerbaijani flag over Hadrut to confirm
political
Aliyev's statement
- added Pegov.
The journalist added that the detachment that had broken through to Hadrut was blocked. He stressed that the presence of special forces of the Turkish Armed Forces is an assumption of the Armenian militias. Moreover, all the frames in the videos presented were taken outside the city of Hadrut.