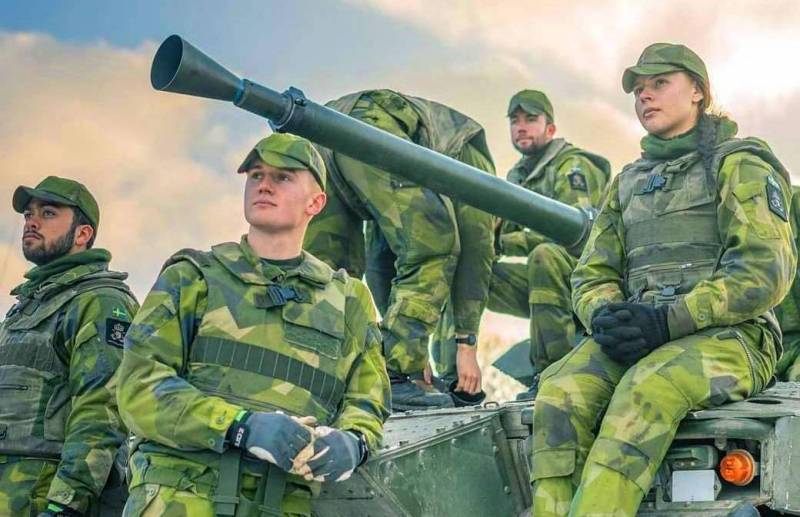 Sweden will be able to provide Finland with military aid faster thanks to the kingdom's new law, which will come into force in October, the website of the Helsinki television company Yle writes. The mentioned option will work in case of a threat from an unnamed third country.
It is noted that Sweden no longer has obstacles to sending troops across the eastern border. At the same time, the Finnish Navy will be able to pursue enemy submarines in Swedish waters.
During the six years of the cooperation agreement, the Finnish-Swedish defense alliance has made significant headway and joint exercises have become commonplace.
For the first time, we are participating in strikes against ground targets, or rather, in Finland we simulate bombing

- quotes the portal of the commander of the Swedish contingent, Major Erik Stålhandske.
Finnish pilots of F / A-18 Hornet fighters, for their part, were able to demonstrate attacks with JASSM long-range missiles, that is, a type of weapon that has no analogue in Sweden today. During the exercise, the Swedish JAS Gripen aircraft were in the area of ​​responsibility of the Lapland Air Fleet in Rovaniemi and, in turn, participated in both offensive and defensive battles.
Since taking office as Finland's Minister of Defense, Antti Kaikkonen has met with his Swedish counterpart Peter Hultkvist about twenty times. We can say that the Defense Ministries of the two countries are in touch every day.

- noted in the article.
The meaning of the new Swedish law is that the country should quickly respond to threats to its neighbor, without a pause of one or two weeks while each operation is discussed in parliament. In Finland, a similar law has been in effect since 2017. It concerns the provision and receipt of military aid between Suomi and other EU countries.
Finnish law allows the Ministry of Defense to decide on its own about certain operations. The President, in cooperation with the Parliamentary Foreign Affairs Committee, decides on military assistance in the event of an armed attack or in other threatening situations.
There has always been a geographical imbalance between Sweden and Finland, it is said. On the Scandinavian side, there is a greater risk that Helsinki may need Stockholm's assistance to defend its own XNUMX-kilometer eastern border. The Finnish side has repeatedly asked what kind of assistance Sweden could offer in fact, if needed.
The opinion is expressed that the two countries could cooperate even more closely in the formation of a military alliance.