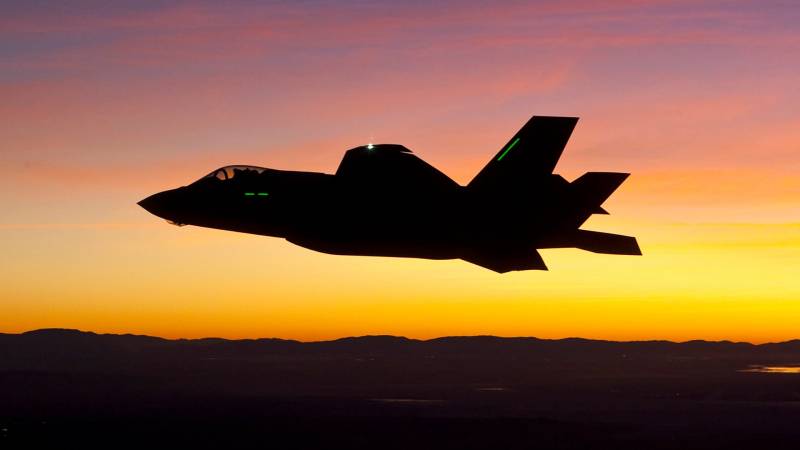 On May 19, 2020, the pilot of the F-35A Lightning II stealth fighter, after a routine night training flight, faced a huge number of problems before he managed to eject from an aircraft that crashed while landing at Eglin Air Force Base in Valparaiso, Florida. The combat vehicle, assigned to the 58th Gorilla Fighter Squadron, which is part of the 33rd Fighter Aviation Regiment of the US Air Force, tried by all means to "kill" the pilot before the crash, writes the American online edition The Drive.
Shortly before that, on May 15, the F-22 Raptor crashed there. These two incidents resulted in a "safety pause" when flying at the base.
According to the published report, the high landing speed was the main reason for the crash of the F-35A (number 12-005053). Accident Investigation Council Chairman Colonel Brian T. Callahan clarified that at least six factors led to the loss of the aircraft, including problems with the pilot's helmet, oxygen equipment and electronic flight control software. They all contributed to the accident.
The plane was flown at night by a qualified instructor who, before the crash, directed a training flight of a pair of fighters. During the flight, the F-35A's unique oxygen system malfunctioned, after which the pilot became overworked, which led to "cognitive degradation." The malfunctions were triggered "at the request" of the "smart" aircraft.
At the same time, the helmet-mounted display (HMD) was offset in relation to the horizon. In addition to skew, the pilot struggled with excessive brightness that made focusing difficult. As a result of the increased brightness of the projection, a "green glow" effect appeared in the cockpit. The pilot reported that he had to significantly strain his eyes to distinguish signals on the runway.
Correct display of the projection and offset of the helmet display in relation to the horizon
This suggests that the pilot was seriously distracted at the most critical moment. He really wanted to land the fighter at excessive speed and made many mistakes trying to figure out the correctness of certain readings of the systems. In the report, the HMD bias was identified as a "critical confusing element that ultimately led to an overload" of information, confusing the pilot.
When landing, the tail of the aircraft stopped responding due to sudden problems in the flight control system. Climb was also impossible due to fully deflected stabilizers that kept the nose down. As a result, the plane, which is estimated at nearly $ 176 million in the accident report, "caught fire and was completely destroyed," leaving debris on the runway. The pilot successfully ejected.