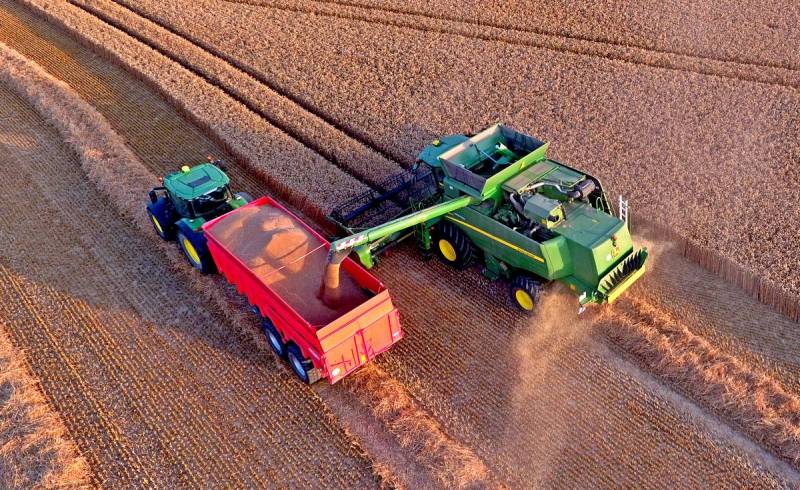 Against the background of other backbone industries, Russia's agricultural sector looks the most promising today. Domestic agrarians are still far from hydrocarbon exporters, but they have already surpassed defense enterprises in terms of foreign exchange earnings. Even in the USA, where it is not customary to praise our country, they admit that it has achieved "significant success."
In numbers, this success looks like this. The head of the Cabinet of Ministers Mikhail Mishustin said yesterday:
Grain production is one of our key export positions, more grain has already been threshed than on the same date last year - according to the latest data, more than 126 million tons.
Industry experts believe that the harvested crop will be fully sufficient to meet the country's domestic needs. Grain exports may amount to about 50 million tons, of which 39 to 40 million tons will be wheat. This will allow Russia to securely gain a foothold in the position of the world's largest food exporter. Our closest formal competitor is the United States, but the "hegemon" traditionally sells grain in the markets of South America and Southeast Asia. The EU countries are Russia's real rivals, but there are now big problems with crop failures. Because of this, for example, France yielded to domestic farmers their positions in their native Algeria. Total EU wheat exports this year are estimated at just 25 million tonnes. Russian grain is now sold to more than a hundred countries around the world.
This is an indisputable success, but this was not always the case. Even the mighty USSR was forced at one time to import wheat. The first attempts to start exporting grain were made by the Russian Federation in 2001. Then the total volume of exports from North America exceeded the Russian one by 25 times. But by 2014, our country had overtaken Germany, France and Australia, coming in third place after Canada and the United States, having produced 22 million tons of wheat against 25,6 million tons from the Americans. Since then, Russia has confidently competed with these agricultural producers, coming out on top. Even a difficult 2020 should not prevent it from consolidating its dominant position in this area. It was possible to achieve such indicators only due to a combination of several factors:
At first
, objectively, the world demand for food products began to grow.
Secondly
, domestic farmers began to pay increased attention to wheat, focusing on more productive winter crops. They also actively began to sow leguminous crops and maize, using high-quality seed.
Thirdly
, fertilizers, plant protection products and modern agricultural
technique
... The government is implementing a program to subsidize agricultural machinery manufacturers; this year, 14 billion rubles will be allocated.
Taken together, these measures gave the desired result. Russia is once again becoming a great agricultural power. However, it is worth mentioning a number of remaining problems. First of all, industry experts point to the wide prevalence of imported seeds, which could potentially pose a threat of sanctions restrictions from the West. Work on import substitution is already underway, some success has been achieved in wheat, but dependence on many other key positions has yet to be overcome.
In addition, farmers complain about the underdevelopment of agricultural insurance services. Our country is located in a zone of risky agriculture, natural emergencies occur with unenviable regularity, causing serious damage to crops. Insurance companies either shy away from insuring such risks, or do it reluctantly, setting inadequate tariffs that are disadvantageous to farmers. Because of this, no more than 8% of the total crops were insured. Probably, the active participation of the state in this important matter is necessary. If all this is done, Russia will begin to dominate the world food market.