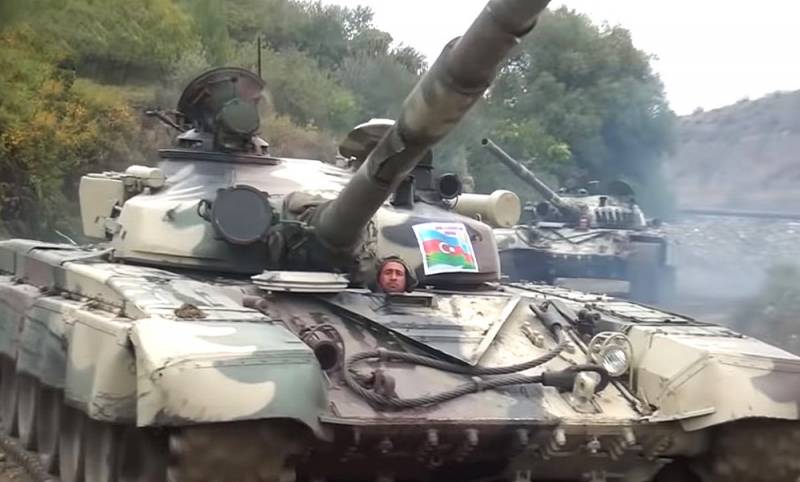 In Nagorno-Karabakh, during the fighting on October 6-8, 2020, the Azerbaijani army was replenished with a company of captured T-72 tanks, which were left by the Armenian military. This became known from the videos distributed by the Ministry of Defense of Azerbaijan.
The frames of the first video show six MBTs: two T-72A with tactical numbers 617 and 721, three T-72B (t / n 614, 901 and 902), and one T-72AV (t / n 909). They were all on the move. Azerbaijani servicemen pasted over them with stickers with national symbols and drove them to their location. Moreover, some tanks still have stickers with Armenian symbols.
The second video also showed six MBTs moving on their own. One T-72A (t / n 081), T-72B (t / n 096) and T-72B1 (t / n 094), as well as one T-72A and two T-72AV, tactical numbers of which are unknown, so how the servicemen managed to paint over them. After a more thorough inspection, these tanks will replace the failed Azerbaijani combat vehicles that were damaged by the Armenians earlier.
In addition, it is not known what condition three more captured tanks are in: one T-72B and two T-72A. At the same time, on social networks, some users are wondering how to quit
machinery
without first damaging it. To this, other, more experienced commentators reply that sometimes you just need to jump out of the "box" in time and run away. When you run out of ammunition, the enemy is on his heels, and his drones are hanging in the air, there may simply not be time to disable equipment. Especially in the mountains, where you can't really ride on tanks.